People and Property: Real Estate and Construction News Roundup
Matteson to head Office of Energy and Planning, People's aids Easterseals capital campaign … and more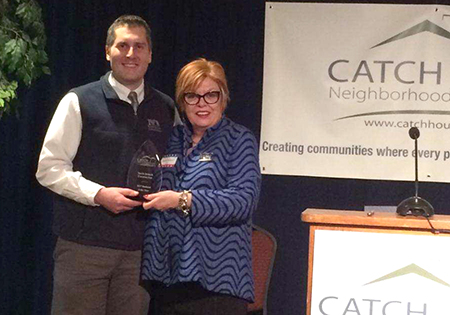 Myles Matteson, most recently counsel to former U.S. Sen. Kelly Ayotte, has been named by Gov. Chris Sununu to be the next director of the Governor's Office of Energy and Planning. The office, which supports development, land protection, energy use and planning functions, partners with stakeholders to guide the state's policy development and growth. The governor recently proposed to broaden the office's scope under a new name, the Governor's Office of Strategic Initiatives.
Zachary Zavalianos of Laconia has joined DuBois & King as a bridge engineer in the firm's Transportation Division. Zavalianos, a structural engineer, works out of the firm's Laconia office.
Westbrook, Maine-based Acadia Insurance says it is paying more than $3.3 million in policyholder dividends to four Northeast-based safety group dividend programs that serve local contractors and retail lumber dealers, including the Maine and New Hampshire Street, Road and Utility Contractors Safety Group and NH Commercial Builders. The businesses, said David LeBlanc, chief underwriting officer, "made a concerted effort to reduce losses through the promotion of a safety culture."
Manchester, NH-based Hoyle, Tanner & Associates Inc. has opened an office at 50 High St. in North Andover, Mass., moving its Hopkinton, Mass., operations in an effort to extend its Bay State market.
People's United Bank has awarded $100,000 to Easterseals NH Military & Veterans Services to help support the Big Ideas for Building Independence Capital Campaign, which is raising funds to renovate the organization's main facility in Manchester.
Once the renovation is completed later this summer, Easterseals NH will be home to the largest array of services under one roof for people with disabilities and special needs, officials said.
The People's United Bank gift to Military & Veterans Services will be used to create a dedicated and more private entrance and increase meeting spaces for veterans, service members and their families.
Thus far, over $2 million has been raised through the capital campaign, which was launched in September 2016.
Linda Matheson has joined the Commercial Department of Peabody Smith Realty, Franconia. Matheson, the former owner of a real estate firm, also has over 20 years of experience in the hospitality, resort and property management fields.
Translucent sandwich panels built by Manchester-based Kalwall are a featured product at a two-month-long exhibit in London being hosted by the Built Environment Trust. The SuperMaterials exhibit, which began Feb. 1 at the London Building Centre and ends April 27, highlights how scientific developments have transformed the way we build.
Wason Associates Hospitality Real Estate Brokerage Group, Portsmouth, has announced the sale of The Best Western Plus in Bennington, Vt., and The Palmer House Resort in Manchester, Vt.
The 58-room Best Western Plus was acquired by S.K.B.W.V. Acquisition LLC for $3.8 million. The 50-room Palmer House was purchased by Palmer House LLC for $3 million.
Joe Cardillo, broker associate and Vermont licensed broker for Wason, handled the transactions.
Newton Kershaw III, CEO of Elm Grove Companies, Manchester, has been appointed to the board of directors of Amoskeag Industries, a for-profit company whose primary purpose is to promote economic development for Manchester.
Monday, March 13, marks the 30th anniversary of Bedford Design Consultants Inc. a civil engineering firm specializing in site design and planning, the company recently announced.
Applications for projects that strengthen economic and infrastructure development in the state's four most rural counties – Carroll, Coos, Sullivan and parts of Grafton – are available from the Northern Border Regional Commission. Grant proposals can be for a variety of projects, including transportation, telecommunication and basic public infrastructure; workforce development; entrepreneurship, technology, or business development; resource conservation, tourism and recreation, or publicly owned renewable energy development and projects for basic health care and other public services are also eligible.
Information sessions will be held from 1 to-3 p.m. March 29 at the CSB Community Center, Claremont; 1 to 3 p.m., April 7 at the Wolfeboro Town Hall and 1 to 3 p.m., April 10 at the North Country Resources Center, Lancaster.
For more information, contact Mollie Kaylor at the NH Division of Economic Development, 603-271-2341 or mollie.kaylor@dred.nh.gov. The application package is available at nbrc.gov.
Berkshire Hathaway HomeServices Verani Realty recently named its Concord location its 2016 Office of the Year and named Team Dunn/Andrews/Kelleher, made up of April Dunn, Joanie Andrews and Derek Kelleher of the Concord office the top producing team of 2016. The Office of the Year is awarded to the location that achieves the highest percentage of its gross commission income goal for the year.