People and Property: Real Estate and Construction News Roundup
Barry Brensinger receives Outstanding Neighbor Award, CJ Architects expands to Portsmouth's North End ... and more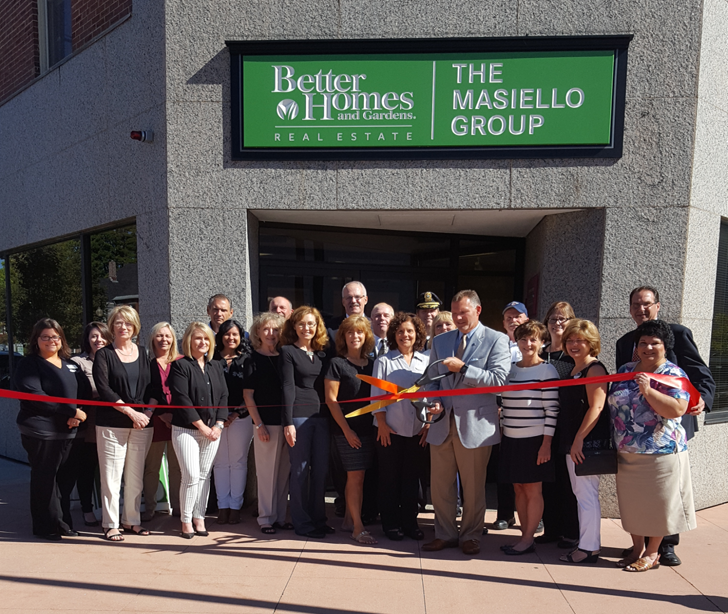 North Branch Construction of Concord has completed the renovations to the Somersworth High School Career Technical Center in Somersworth. The project included a 53,000-square-foot interior renovation of the existing Career Technical Center. Program spaces that received renovations included the automotive lab, culinary kitchen, graphic design, engineering, building trades, broadcasting studio, marketing, digital media, medical assisting, and administration offices.
CJ Architects is moving to the mixed-use residential/commercial building they designed – 233 Vaughan Street in Portsmouth. CJ Architects, which has outgrown its Market Square space where it has been headquartered for 14 years, purchased the space in the spring of this year and is nearing completion of the interior build out, which they also designed the space and acted as the general contractor on the project. The new open concept headquarters, located across the street from 3S ArtSpace and its Block 6 café, features twelve foot ceilings and walls of glass, geothermal heating and cooling, clean interior design, private patio, rooftop pool and gardens.
Atlantic Prefab Inc. of Nashua, provider of prefabricated building components and systems, has completed the new Masonicare at Mystic Assisted Living Facility in Mystic, Connecticut. Atlantic Prefab supplied nearly 100,000 square feet of cold formed steel roof trusses for the Masonicare project. The scope of this project ranged from simple mansard trusses to extremely complex profiles and roof lines.
Barry Brensinger, AIA, design principal, at Manchester-based Lavallee|Bresinger Architects, will receive the David P. Goodwin Outstanding Neighbor Award today for his long-time support and commitment to affordable housing and community development in Manchester and surrounding communities. The award was created eight years ago in honor of the late David P. Goodwin, Trustee and Manchester resident. The David P. Goodwin Outstanding Neighbor Award is given each year to an individual or entity who demonstrates the qualities of generosity and service to NeighborWorks Southern New Hampshire.
Todd C. Emmons has been appointed to the New Hampshire Health and Education Facilities Authority to its board of directors by Governor Hassan and confirmed by Executive Councilors Joseph Kenney, Colin Van Ostern, Christopher Sununu, Christopher Pappas and David Wheeler. Emmons, a resident of New London, has been involved in higher education administration for over 30 years, and has previously worked in New Hampshire at Colby-Sawyer College, Saint Anselm College and Daniel Webster College. He is a board member of the New Hampshire Higher Education Assistance Foundation (NHHEAF) where he also serves on the Investment Committee, and a board member of the Lake Sunapee Region Chamber of Commerce. Emmons' term expires June 30, 2021. Other Authority Board members are Chair Peter Imse, Vice Chair Bruce Burns, Jill Duncan, Deanna Howard, Mary McLaughlin and Allan Moses.
Better Homes and Gardens Real Estate The Masiello Group celebrated their move to a new location: One Wakefield Street, Rochester with a grand opening and ribbon cutting. The Masiello Group is a full service company which includes Mortgage, Title, & Insurance. Masiello's highly skilled REALTORS® have the experience to provide expert services needed for today's real estate market.
Raymond-based Jewett Construction Co. has hired Kathy Smith as the latest member of its project management team. Smith holds a Bachelor's Degree in Business Management from Rasmussen College. As a project coordinator/project accountant, she works closely with the controller and project managers from project startup through closeout handling many project specific coordination, accounting and logistics details.
Lexington, Mass.-based Summit Realty Partners, Inc. announced the completion of a lease with a New England based pet store, One Stop Country Pet Supply who is currently building out its new store at Monadnock Marketplace. One Stop is relocating from Colony Mill Marketplace and expects to be open in October. Monadnock Marketplace is a 504,873-square-foot shopping center located at the intersection of Ash Brook Road and Routes 9, 10 and 12. Chris McMahon of Summit Realty Partners represented the landlord and Bert Inman of RE/MAX Town & Country represented the tenant in the One Stop Country Pet Supply transaction.
Nominations are currently being sought for the twenty-first annual New Hampshire Construction Industry Ethics Award. The award is presented to "the individual, business or organization that, through its words and deeds, best demonstrates a commitment to upholding the highest ethical standards in construction." The award carries with it a handsome plaque and $1,000 cash contribution to the recipient's charity of choice. Nominations will be accepted through December 5, 2016, with the recipient to be announced in April. Guidelines for nominating deserving individuals and/or companies may be obtained by contacting the award's sponsor, David W. "Woody" Wood at 603-529-2355 or woody@wordsfromwoody.com.
Carl W. Thunberg, PE, will serve as the president of the New Hampshire Society of Professional Engineers for 2016-2017. Thunberg is geotechnical department manager at Manchester-based engineering consulting firm, Terracon. Thunberg's goals as president are to recruit younger members to leadership roles within NHSPE, provide excellent continuing education events for NHSPE members, and to continue tracking the New Hampshire legislative docket for bills that could potentially threaten the safe practice of engineering by licensed professional engineers.
Londonderry-based Tinkham Realty, Inc. has sold 13 East Broadway, Derry NH to Greater Salem Vineyard, dba Vineyard Community Church of 104 South Road, Londonderry. The property consists of a 3,400-square-foot commercial building located in downtown Derry, it was originally the American Legion Post and presently set up as a cross fit gym. The sale price according to the Rockingham Registry of Deeds is $185,000. Jerry Hersch of the commercial division represented the seller 18th Avenue Sports.
Tinkham also has sold 271 Derry Road to SLC Development, LLC for $335,000. The property consists of a 4,800-square-foot office building on .44 acres with frontage on Derry Road. Jerry Hersch of the commercial division represented the seller BTG Properties.
Taylor Glidden has joined DuBois & King consulting engineers as a staff engineer working in the firm's Public Works Division. A graduate of Clarkson University with a Bachelor's Degree in Environmental Engineering, Glidden's experience includes working as an engineer on projects relating to water resources, environmental permitting, and hazardous materials remediation. She works out of the firm's Laconia office.
The New Hampshire Housing Finance Authority will hold its Annual Economic and Housing Market Update on Wednesday, Oct. 19 at the Radisson Hotel in Manchester. Doug Duncan, Fannie Mae's senior vice president and chief economist, is the keynote speaker. Tickets can be purchased at nhhfa.org/events
The Seacoast Workforce Housing Coalition, BIA and the seven seacoast chambers of commerce will hold the Seacoast Housing Summit breakfast forum on Thursday, Nov. 3 at UNH's Huddleston Hall. Chris Estes, president and CEO of the National Housing Conference, is the keynote speaker. Reservations can be made at dovernh.org/housing.