People and Property: Real Estate and Construction News Roundup
Tighe & Bond, Concord win ACEC-NH award, Hampton Inn sold in Portsmouth … and more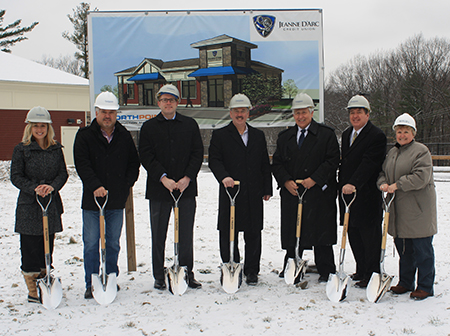 The engineering firm of Tighe & Bond and the city of Concord were recently presented with an American Council of Engineering Companies of NH Outstanding Achievement Award for chemical process improvements at the city's water treatment plant.
The project included replacing aging components to ensure code and safety requirements, providing secondary spill containment, as well as increasing the overall efficiency and modernization of the plant's chemical storage system.
The 11,375-square-foot office building at 292 Route 101 in Bedford has been sold for $967,500 by DWD Realty LLC of Amherst to John Stewart of Bedford. DWD was represented by Deanna Caron, associate broker at Stebbins Commercial Properties. Stewart was represented by Chris Norwood of NAI Norwood Group.
DeStefano & Associates Inc., Portsmouth, recently completed tenant fit-up of the new Orangetheory Fitness facility at the Southgate Plaza, Portsmouth. The facility, owned and managed by Portsmouth native Sherri Ritz, is part of the Orangetheory Fitness national franchise.
DuBois & King consulting engineers has announced that Sarah Dinwoodie of Weare has joined the firm as a project engineer in the firm's Aviation Group. She works out of the firm's Bedford office.
CBRE/New England recently facilitated the purchase of an office condominium buy Atlantic Steel Detailing Services, a structural steel detailing firm, at Oak Knoll Common, 389 Main St., Salem. The unit, encompassing the entire second floor, will serve as the new headquarters for Atlantic Steel, which is currently located at 30 Main St. in Salem. CBRE/New England's Chris Healey represented the buyer, while Colliers International's Hugo Overdeput represented the seller.
Bryan Hussey has been promoted to executive vice of with Metro Walls, Manchester.
G.M. Roth Design Remodeling, Nashua, recently added three people to its staff: Bill Doherty, production manager; Jesse Terruso, apprentice/helper; and Justin Miller, design build specialist.
Mark Wall of Windham, Maine, has been hired by Jewett Construction of Raymond, NH, as the newest member of its client development team. Wall represents Jewett in the state of Maine.
Giri Hotels has acquired the 125-Room Hampton Inn Portsmouth Central at 99 Durgin Lane in Portsmouth from Mercury Investment Co., which sold the property for an undisclosed sum. The acquisition was financed by Kennebunk Savings Bank. Denny Meikleham and Alan Suzuki of the Boston office of HFF represented the seller in the transaction.