People and Property: Real Estate and Construction News Roundup
Voucher initiative for veterans' housing, Pike wins national award … and more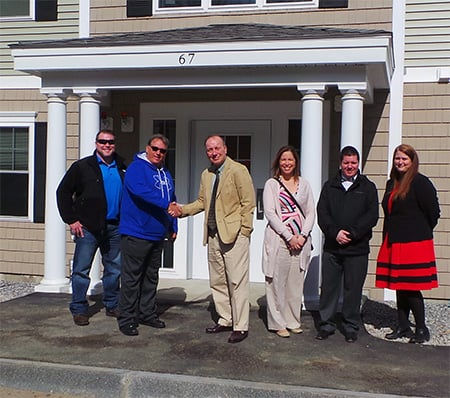 Homeowners in Ladd Hill Mobile Home Park, Belmont, recently closed on the purchase of their 32-unit park, making it New Hampshire's 118th resident-owned manufactured-home community. Using training and technical assistance from the NH Community Loan Fund's ROC-NH program, residents organized and formed Ladd Hill Cooperative Inc. and then negotiated with the park's owner, Ladd Hill Realty Trust, and reached a purchase price of $525,000 before finalizing the deal March 1 with a mortgage from the Community Loan Fund.
A Junior Lego Build Contest being will be part of the upcoming 49th annual NH State Home Show, March 18-20, at the Radisson Manchester. The contest, which takes place throughout the day Saturday, March 19, is for children from 5-8 and 9-12 who will compete for first, second and third-place prizes.
All eligible completed Lego Houses will be on display for the public, who will have a chance to vote for the "Best of Show" Lego House.
This inaugural Junior Lego Build Contest is being offered through a collaboration of NH Home Builders Association and FIRST Lego League.
Ambit Engineering Inc., Portsmouth, has announced that Paul Dobberstein has joined the firm as director of surveying.
Aries Engineering has announced the promotion of Kathryn Ward and George Holt as stockholders and directors of the firm. Ward is an engineer with expertise in multimedia environmental compliance and Holt is a geologist specializing in hydrogeologic studies and contaminated-site remediation.
Aries also announces the retirement of its president, Thomas Roy, one of Aries' founders, who helped lead the company for 29 successful years. Michael Donahue, another Aries founder, has been promoted to president.
Metro Walls and Exterior Designs Inc., Manchester, has hired Nathan LaBonte as director of safety. LaBonte was a partner in the general contracting firm of Peter E. LaBonte & Sons, where he managed all aspects of the company's day-to-day operations and safety program.
Exeter-based mechanical contracting firm Palmer and Sicard has announced three promotions: Mike Powers, plumbing/piping estimator; Bob Begin, project manager; and Erin Cook, assistant project manager.
ACCA, the indoor environment and energy efficiency association, has named MSI Mechanical Inc. of Salem as its 2016 Commercial Contractor of the Year. MSI was recognized for its dedication to recruiting and growing a new generation of quality employees through a co-op program with local high schools.
Atlantic Prefab, Nashua, a supplier of metal trusses, prefabricated wall panels and other prefabricated components, has been named a manufacturing affiliate of Sto Panel Technology, a maker of exterior claddings and weather barrier systems.
Pike Industries Inc., Belmont, has won a National Asphalt Pavement Association 2015 Quality in Construction Award for excellence in construction of an asphalt pavement. Pike won the award for the overlay of Interstate 89 from New London to Grantham. The company rehabilitated a 7.3-mile section of the road with a specially designed rubberized asphalt overlay – a mix that included a cement made from recycled automobile tires stripped of all metals and debris and ground into a crumb rubber product.
Lowell Five Bank provided construction financing for the Saigon Asian Market, an 11,000-square-foot market located at the corner of Union and Manchester Streets in Manchester. The building provides a new expanded location for the market, which was previously located on South Maple Street. Lowell Five worked with the NH Community Loan Fund, which participated in the permanent financing for the project.
Raymond-based Jewett Construction Company Inc. has been selected by Brattleboro Subaru for an extensive renovation of its auto dealership on Putney Road in Brattleboro, VT. Designed by Bruce Ronayne Hamilton Architects, the 6,000-square-foot interior and exterior renovation includes a 1,700-square-foot pre-engineered metal building supplied by Butler Manufacturing that will house a new four-bay service department.
Matt Nadeau, a CPA with Nathan Wechsler & Company, Concord, has been treasurer of the Associated Builders and Contractors Young Professional Group, an association that gives young professionals the opportunity to network with peers and learn in order to advance their skills in the building and contracting profession.
Harbor Homes and the NH Housing Finance Authority have launched the Housing Choice Vouchers to Veterans initiative. Under the program, NHHFA will provide 25 Housing Choice vouchers to provide permanent housing to veterans served through Harbor Homes' transitional housing program.
The initiative is funded through the U.S. Department of Housing and Urban Development's Federal Housing Choice Voucher Program, which aims to provide safe, decent, sanitary and affordable housing to low-income households.
Keith Lavailliere of Bedford has purchased two condo units, totaling 3,119 square feet of space, Pine Tree Place, 360 Route 101, Bedford. Tom Dickson of Stebbins Commercial Properties represented the seller, Real Property Services of Lynn, Mass.., and assisted the buyer. According to the Hillsborough County Registry of Deeds, the sale price was $160,000.
Cynthia Stockman has joined TFMoran as a civil engineering project manager in its Bedford office. Her experience includes hazardous waste remediation, water supply, environmental permitting and civil/site design.