People and Property: Real Estate and Construction News Roundup
UNH's Bencks honored by AIA, more Keene tenants for Brady Sullivan … and more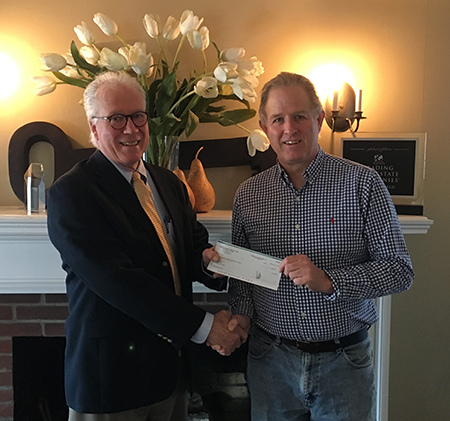 Denron Plumbing and HVAC, Manchester, recently completed heating plant upgrades for Southern NH Health Systems' Behavioral Health, Immediate Care and Rehabilitation Facility in Nashua. Originally built in 1985, the 72,000-square-foot, 40-bed facility housed seven hydrotherm atmospheric boilers that were replaced with two – Cleaverbrooks clear-fire condensing boilers, heating pumps, frequency drives and a hot water heater designed to bring the plant up to date with new technologies and efficiencies.
This year's 49th NH State Home Show, to be held March 18-20 at the Radisson Manchester, will for the first time feature a Tiny House Showcase. Recent trends in downsizing, simplification and smaller, lower-impact home footprints are likely to make the showcase one of the most talked about features at this year's home show, said the NH Home Builders Association, which is the organizer of the event. The showcase will feature tiny house builders, dealers and owners who will exhibit some of their buildings on Pleasant Street adjacent to the Radisson.
Event details may be found at nhstatehomeshow.net.
The Mattabassett Water Pollution Control Facility upgrade project in Cromwell, Conn., designed by New Hampshire-based engineering firm Wright-Pierce, recently won the American Council of Engineering Companies of Connecticut's Grand Award as well as a National Recognition Award in the ACEC 2016 Engineering Excellence Awards competition.
The winning projects were judged on criteria that included how well the project outcome met or exceeded the client's needs; the social, economic and sustainable design considerations; originality in finding project solutions; and the complexity of the overall project.
Concord Housing + Redevelopment has received a "high performer" rating through the Section 8 Management Assessment Program, which measures performance of public housing agencies and helps HUD identify and target those that may need improvement. The agency received a SEMAP score of 100 percent for the fiscal year that ended Sept. 30.
NH Employment Security and the NH Department of Education have leased space at Brady Sullivan Properties' Center at Colony Mill in Keene. NHES has taken a 10-year lease for 4,910 square feet of space. The NH Department of Education has also signed a 10-year lease for 3,536 square feet.
Charles Panasis of Brady Sullivan the deals, with support from Benjamin S. Kelley and James F. Tobin.
The NH Old House & Barn Expo, presented by the NH Preservation Alliance, will be held March 12-13 at the Radisson Manchester. The event will feature more than 100 exhibitors as well as lectures, demonstrations and presentations, including those by architectural historian James Garvin, White House interiors advisor Richard Nylander and authors Gordon Hayward and Howard Mansfield. For more information, click here.
University of New Hampshire Architect and Director of Campus Planning Douglas Bencks has been named to the American Institute of Architects' College of Fellows, an honor awarded to members who have made significant contributions to the profession.
During Bencks' tenure, UNH has put in place a comprehensive campus master plan, updated it twice, developed a campus energy system that is primarily renewable, and completed over $800 million of construction projects many of which have won state, regional or national design awards.
He will be honored at an investiture ceremony in May at the 2016 National AIA Convention in Philadelphia, as well as at an AIA New Hampshire event at 3S Artspace in Portsmouth, March 17.
Joseph Persechino of Rye, a project manager in engineering firm Tighe & Bond's Portsmouth office, has been promoted to associate as a new shareholder in the firm's stock ownership program.
For its 22nd annual Comedy Night fund-raiser, CATCH Neighborhood Housing will be hosting the Capitol Steps for an evening of political musical satire on Wednesday, March 9, at the Capitol Center for the Arts.
Comedy Night will begin with a pre-show reception at 6 p.m. in the Governor's Hall. There, CATCH will present the 2016 Housing Hero Award, Business and Volunteer of the Year, and the Helen M. Greene Visionary Award.
The Capitol Steps' performance will begin at 7:30 p.m. All proceeds from the show will benefit CATCH's affordable housing programs. Tickets are available from the Capitol Center for the Arts online at ccanh.com.