People and Property: Real Estate and Construction News Roundup
New appointment at MDC, promotion at North Branch … and more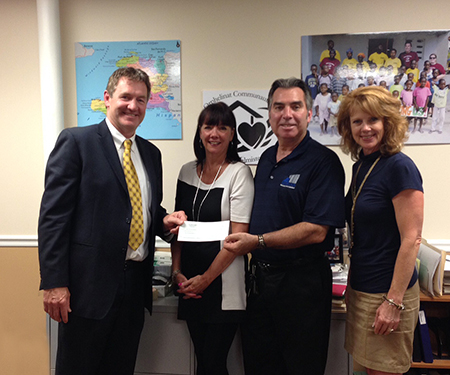 Don St. Germain, executive vice president and chief lending officer of St. Mary's Bank, has been appointed to the board of directors of the Manchester Development Corp. MDC provides advocacy, support, and financing for a variety of projects in Manchester.
North Branch Construction Inc. of Concord has completed the renovation of the Kearsarge Regional High School auditorium in North Sutton.
The project included the demolition of the ceiling closest to the stage and the installation of a new section of catwalk, as well as a sophisticated DMX House Lighting control system, new ADA-accessible stage access, an extension to the front of the stage, a new proscenium wall, new seating, and various other improvements.
North Branch also announced that it has promoted Jamie Stewart of Chichester to project superintendent. Stewart has been a carpenter and foreman with the firm for 4½ years.
Home prices in the Manchester-Nashua area rose by 5.1 percent in August from a year earlier and 0.7 percent from a month earlier, according to property information firm CoreLogic.
Nationwide, home prices nationwide increased by 6.9 percent in August 2015 compared with August 2014 and increased by 1.2 percent in August 2015 compared with July 2015.
Raymond-based Jewett Construction Co. Inc. has hired Dan Ray of Manchester as its new pre-construction project manager.
Construction software designer B2W Software of Portsmouth has announced that Fire Training Structures of Phoenix, Ariz., has selected B2W Estimate to streamline the company's bidding process. FTS assists fire service professionals' training needs by fabricating customized training structures for its domestic and international customer base of firefighters.
Brookstone Builders Inc., Manchester, has announced that Jay Gemmiti has joined the firm as assistant estimator. Most recently, he owned and operated a technology consulting firm in Vermont for over 11 years and also spent some time working in the broadcast media industry.
DeStefano Architects, Portsmouth, has announced the completion of a new 7,000-square-foot business suite at the Sundial Center in Manchester. The suite will serve as the Manchester regional office of the NH Department of Education's Vocational Rehabilitation program.
D|A teamed with CP Management of Exeter to establish the new suite within the Sundial Center.
Prolman Realty Inc., Nashua, has have been selected by Robrich Realty LLC to exclusively market for sale Units 9 and 10 at Northbridge Business Center. The units consist of 4,800 square feet of professional office and engineering space.
Environmental design and marketing firm Image 4 was recently recognized with a 2015 Financial Marketing Award. Image 4 and N.E.S. Construction were honored for their design and production of the Albany, N.Y., corporate headquarters and branch of CAPCOM Federal Credit Union.
Harrington & Reeves, Nashua, has announced the completion of two Class A office lease transactions: The Sisters of Mercy of the Americas Northeast Community, represented by Pat Clancey of Pat Clancey Realty, leased 1,621 square feet, and Soleo Health, represented by Mike Harrington of Harrington & Reeves, leased 3,411 square feet.
Deane Navaroli of Harrington & Reeves represented the owners of 11 Trafalgar Square in both transactions.
Dakota Johnson of Stratham has joined Weichert Realtors-Points East Yankee Trader's Portsmouth office.