People and Property: Real Estate and Construction News Roundup
Salem Woods groundbreaking set, Ripano to open showroom … and more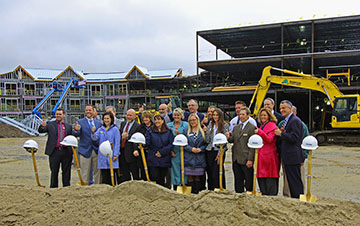 Craig Jewett, president of Raymond-based Jewett Construction Co. Inc., has been named to the board of directors of the Regional Economic Development Center of Southern New Hampshire.
Brenda Litchfield of Concord Commercial Real Estate, Concord, has been chosen to represent the sale of 20 Foundry St. in Concord.
A ceremonial groundbreaking was recently held at The Residence at Salem Woods, a senior living community under construction in Salem. The 77,000-square-foot senior living community will have 84 units that include a mix of studio, one-bedroom and two-bedroom apartments.
Eckman Construction is the contractor and The Architectural Team of Chelsea, Mass., is architect. LCB Senior Living is the developer and operator of the project, which is scheduled for completion in early 2016.
Billy Martin has been hired as vice of marketing and business development at EnviroVantage of Epping.
Martin's marketing background includes stints with Timberland, PGA Tour Apparel and Concord Marketing Solutions.
Theresa Grella of The Bean Group in Amherst has won the 2015 Good Neighbor Award from the Greater Manchester/Nashua Board of Realtors. Established in 2002, the recognizes Realtor who that has made "an extraordinary commitment to improving the quality of life in their communities through volunteerism." Grella has volunteered extensively at the Board of Realtors and in her community through the Amherst Junior Women's Club and the Community Business Members Cares organization.
Ripano Stoneworks, a fabricator of granite and quartz countertops, has opened a regional countertop showroom at its Nashua facility.
"The showroom is something we've been working towards for a long time," said Ripano Vice President Matt Laliberte. "With a number of fully functional displays, the latest in countertop materials and designs as well as high tech meeting space, we really see this as a resource that both homeowners and kitchen and bath designers will be able to utilize."
A ribbon-cutting ceremony will take place from 4 to 7 p.m. on Tuesday, June 23, at Ripano's 90 E. Hollis St. location.
Optima Bank & Trust, Portsmouth, has donated $10,000 in support of the Exeter Area YMCA, which is currently under construction. The 33,000-square-foot building is scheduled to open on Sept. 1.
The NH Division of Historical Resources has announced a new Pre-Disaster Planning Grants for Historic Properties program. Projects eligible for funding, include new or updated historical surveys, National Register nominations, community- and property-specific disaster plans and archaeological site stabilization.
Historic properties in six New Hampshire counties – Belknap, Carroll, Coös, Grafton, Rockingham and Sullivan – are eligible for the funding.
Applications are available at nh.gov/nhdhr and are due Aug. 10.