People and Property: Real Estate and Construction News Roundup
$16m loan for Webster at Rye expansion … and more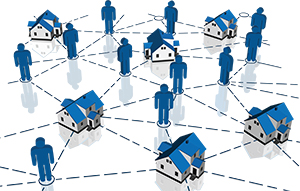 GC Engineering has purchased the Piscopo Block, at 633-637 Main St. in downtown Laconia, with plans to expand their operations in the building, including interior renovations and retrofitting space for their new headquarters.
The purchase was made possible with financing from Bank of New Hampshire and the Belknap Economic Development Council.
Aries Building Systems of Windham has announced the formation of a Northeast Major Projects group.
With specialty in the education, government and health care sectors, Aries' Northeast group will be focused on providing both standard and custom-designed temporary and permanent modular buildings for a variety of businesses and organizations in New York, New Hampshire, Vermont, Maine, Massachusetts, Connecticut and Rhode Island.
It will be led by Brian Turner, the firm's director of major projects.
The Rannie Webster Foundation has received a $16 million construction loan to enable the planned expansion of the Webster at Rye assisted living facility in Rye.
The $16 million loan, provided by Citizens Bank, will be used to add 52 new units of assisted living and related common space to the existing skilled nursing facility.
The Rannie Webster Foundation is a not-for-profit organized in 1976 to own and operate the Rye assisted living and nursing care facility.
Jackman Commercial Realty Inc., Manchester, has announced it has negotiated the lease of 6,500 square feet of office space at 3 Perimeter Rd. in Manchester to Fastenal Company. This is the firm's second unit at the location and will be used as an office and training facility.
Matthew Sypher has been hired by Eckman Construction, Bedford, as an assistant project manager.
Hooksett-based ProCon has announced the promotion of Jim Loft to executive vice president of architecture and engineering.
Loft, who has worked for the firm for the past 19 years, helped grow its architectural unit. In that time, it has grown from a staff of four to over 45 architects and engineers.
The company also recently announced that it has begun construction of a new $11.5 million Hampton Inn & Suites Hotel in Worcester, Mass., which will be managed by Colwen Management of Portsmouth.
CATCH Neighborhood Housing recently bid farewell to two longtime board members, Anne Saunders and Robert J. Lanney. Saunders is a freelance writer and editor as well as NH1News' weekend assignment editor and digital producer, who joined CATCH's board in 2008.
Lanney, an attorney and director of business and firm development at Sulloway & Hollis, joined the board in 2007.
Brookstone Builders Inc., Manchester, has been selected by the U.S. Navy to perform a repair and renovation project at a historical 1899 building at the Portsmouth Naval Shipyard. A broken pipe caused substantial water damage throughout the structure, and the scope-of-work will include abatement, selective demolition along with the installation of new ceilings, floors and walls, electrical and mechanical system upgrades.
Erik Crisman will serve as Brookstone's project manager. Brookstone will be the subcontractor on this project, with CCI Solutions LLC of Augusta, Maine, serving as the primary contractor.
RE/MAX Insight, owned and operated by Jason Amiss and Mark Bishop, is opening a new office at 390 Main St. in Salem. The firm's office was previously located at 254 North Broadway.