People and Property: Real Estate and Construction News Roundup
New Colliers shareholder, Provident Bank plans Bedford HQ … and more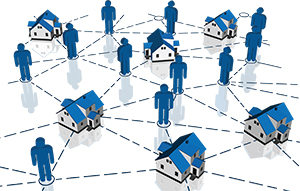 Senior associate Doug Martin of New Boston has been elected a shareholder in the independently owned New Hampshire office of Colliers International, which has offices in Manchester and Portsmouth. Martin is a member of the board of directors of NHCIBOR.
Amesbury, Mass.-based The Provident Bank has announced plans to build a new southern New Hampshire regional headquarters at Goff's Mill Plaza in Bedford. The office facility will include a full service branch and will be located on South River Road in the retail section of the new area known as Goff's Mill Plaza.
Great Bridge Properties recently secured the funding required to add a second building at Conway Pines Apartments, an affordable housing development for seniors in Conway.
The funding came through a combination of federal HOME funding and Low Income Housing Tax Credits from New Hampshire Housing.
The expansion will add a second building of 30 apartments for seniors next to the current building.
The New Hampshire Chapter of the American Institute of Architects has announced the results of its 2015 High School Design Competition. Awards were distributed at the AIA New Hampshire/Keene State College Architecture Department Annual Meeting held April 30 at Keene State College.
Receiving cash awards were: Patrick Chan, Salem High School; Amanda Gladys and Christina Rose, Pinkerton Academy, Derry; Derick Johnson, Kingswood Regional High School, Wolfeboro; Ian Farr-Szep and Patrick Joseph, ConVal Regional High School, Peterborough; and Tim Tamulonis, Milford High School.
Jurors were Tom Mansfield of the NH Department of Resources and Economic Development, Chris Kennedy, UK Architects, Hanover; Dennis McNeal, Autodesk, Inc., Manchester; and Susan Phillips-Hungerford, Susan Phillips-Hungerford Architects, Peterborough.
Cobb Hill Construction, Concord, has announced the promotion of Pete Johnson of Bow to operations manager. Johnson, who joined the company in July 2000, has held several positions, most recently as project manager for the $13 million Havenwood-Heritage Heights project.
North Branch Construction of Concord has been awarded a contract to complete construction of the NH Department of Transportation turnpike maintenance facility in Rochester. Construction will include a new maintenance building with an 11-bay garage and offices, a four-story open salt storage building, an eight-bay spreader hanger and two-pump canopied gas station.
Construction is set to begin in mid-May and will continue throughout the winter and complete by February 2016. Design for the project is being provided by Stantec Consulting Services of Auburn.
The Mandravelis Realty Trust has selected Prolman Realty of Nashua to market for sale or lease the property at 75-77 Northeastern Blvd. in Nashua.
The 88,266-square-foot building is partially leased to St. Joseph's Hospital and Hello Direct. The building currently has 33,251 square feet for lease.
Jewett Automotive Design & Construction, Raymond, has been picked to renovate the Stoneham Ford auto dealership in Stoneham, Mass. Designed by O'Sullivan Architects, Inc., the project involves 5,700 square feet of interior and exterior showroom renovations.
Bedford-based Eckman Construction has hired Matthew Sypher as an assistant project manager. He previously worked as a project engineer with geotechnical construction firm Hayward Baker.