People and Property: Real Estate and Construction News Roundup
$3.1 million in CDFA grants, Masiello honors agents … and more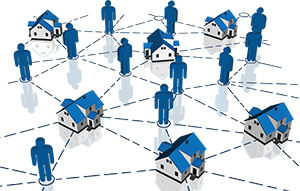 The NH Community Development Finance Authority has approved Community Development Block Grant awards to eight municipalities and counties totaling nearly $3.1 million. The funds will go toward projects developing affordable housing, public works, and upgrading failing infrastructure which benefit nearly 2,600 low- and moderate-income residents in the Granite State.
Among the projects approved were:
• $500,000 to Hillsborough County for The Granite YMCA's plan to build a Center for Youth and Teen Leadership addition to its Goffstown facility.
• $500,000 to the city of Berlin on behalf of Affordable Housing, Education and Development Inc. (AHEAD) for energy improvements at Northern Lights Senior Housing.
• A $255,000 grant to the city of Keene on behalf of the Keene Housing Authority for the rehabilitation of the men's emergency shelter.
• On behalf of the Somersworth Housing Authority, a $500,000 grant to the city of Somersworth to implement energy improvements at the Albert J. Nadeau Homes affordable housing development.
• Merrimack County will receive $300,000 on behalf of Second Start to replace the roof and make masonry repairs at its main building in Concord.
• The proposed Suncook Senior Center will receive $500,000 through a grant to the town of Allenstown.
Salmon Brook Senior Housing, a new 30-unit housing development for seniors, is moving forward in Nashua.
All apartments will be supported with rental assistance provided through the Nashua Housing Authority. SNHS has also committed to offer case management, service coordination, meals assistance, recreation opportunities, housekeeping and personal care services to residents. The development will be within a mile of downtown and Southern New Hampshire Medical Center.
Salmon Brook received a combination of HOME funds and Low Income Housing Tax Credits, which are both federal funding sources, from New Hampshire Housing.
Cori Hooker of Belmont has joined the Coldwell Banker Residential Brokerage Center Harbor Team.
Better Homes and Gardens/The Masiello Group recently honored its top performers.
Agents from the company's 33 offices in New Hampshire, Maine, Massachusetts and Vermont were recognized for their accomplishments in 2014.
Award recipients from New Hampshire included: Patricia Paquette, Michael Blair, Carol Slocum, Nancy Thompson, Shirley Marcello, Kim Curry, Holly Gorsuch, Susan Doyle, Robert Tisdale, Elaine Hall, Michelle Howe, Susan Parker, Timothy Keating, Bill Hutwelker, Nancy Proctor and Ryan Goodell (Keene, NH); and David Orgaz and Cathy Campbell Hayward (Peterborough, NH);
Award recipients from the company's Seacoast area offices were: Mary Beth Rudolph, Marie Burbank, Charlie Jedicke and Elizabeth Richards (Dover); Beth Rohde Campbell, Carol Camp, Madiha Farag, and Denise Sassaman (Durham); Pamela Cameron and Robbi-Lyn Ward (Exeter); Tracy Boies, Margaret Bean, Cheryl Brown, Lisa Newman and James Therrien (Hampton); and Marilyn Laverdiere and Bob Watson (Rochester) Cynthia Couture, Jennifer Laverdiere, Annie Sanders and Jaqueline Flanagan (Portsmouth). Patti Visconti was also recognized for The Masiello Group's Top Commercial agent in the Seacoast region.
From the central and southern New Hampshire region: Carol Brighi, Barbara Brown, Diane Brown, Darlene Morin and Andrea Pinkham (Atkinson); Denise Denver, and Louis Nixon (Bedford); Kathy Cleary, Pamela Kenison, Stephen Marder, Joseph Palmsiano, Rick Wagner, Bob and Diana Wiita (Concord); Judy Ilomaki (Hollis); Jocelyn Boesch, Sherre Dubis, Martha Giacalone, Elizabeth Jarman, Kathy Kaklamanos, Kathleen Lambert, Sandy LeRette, Charlotte Marrocco-Mohler, Charles McCaffery; (Nashua); and James Reagan (Tilton); Jane Beal Costello, Rick Hatton and Rhonda Winn (Windham).
In addition, Nancy Walsh of the firm's Nashua office received a Legend's Award — the company's top award — as the number two agent companywide in 2014 based on closed volume. Also earning Legend's Awards were Pauline Hanson, Anu Rao (Nashua) and Frank Destito (Hollis).
Warrenstreet Architects of Concord is among the three finalists for the New Hampshire Businesses for Social Responsibility's Cornerstone Award. The award is presented to an individual corporation, government agency or nonprofit that exemplifies the concepts of corporate social responsibility and promotes the concepts to the greater business community.
The other finalists are PLAN (Post Landfill Action Network) and ReVision Energy.
The winner will be announced at the NHBSR Spring Conference, "Think Bigger, Dig Deeper" on May 4 at the Grappone Conference Center in Concord.
St. Mary's Bank has donated $2,500 to Greater Nashua Habitat for Humanity, which is raising funds to purchase two vehicles to support its work building and renovating affordable housing for local families in need.