People and Property: Real Estate and Construction News Roundup
Plan NH Merit Awards announced, TRB projects … and more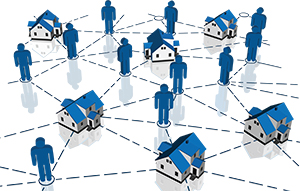 Six projects have been recognized by Plan NH for their excellence in planning, design and development of the built environment.
Winners of Merit Awards, which take into consideration smart growth principles, collaboration and cooperation and the impact of the project on the social, economic or environmental fabric of the community, were:
• Enterprise Center at Plymouth, Plymouth,
• Senior Living at Notre Dame, Service-Enriched Community Housing, Berlin
• Labrie Family Skate at Puddle Dock Pond, Strawbery Banke, Portsmouth
• State Street Utilities Replacement and Streetscape Revitalization, Portsmouth
Receiving an Honorable Mention was the renovation of
Opportunity Networks in Amherst by the organization Building on Hope.
An Honor Award was presented to the Community Planning Grant Program, a $1 million fund managed by New Hampshire Housing to make 46 competitive matching grants "to communities throughout the state to develop and adopt locally-conceived land use regulations that foster the principles of economic, social and environmental sustainability."
TRB Development Group Inc., Hooksett, recently completed a five-week turnaround renovation of the existing Rite Aid Pharmacy in Bangor, Maine. All work was performed at night including new interior treatments to floors, walls and ceilings, new millwork in pharmacy, in-store department signage, and relocating storefront entry and vestibule.
In addition, TRB has begun two nearly identical projects to create approximately 9,000 square feet in each of two Ocean State Job Lot stores for future tenant Dollar Tree.
Concord Housing + Redevelopment recently received a score of 95/100 from the federal Public Housing Assessment System, making it a "high performer."
St. Mary's Bank has launched a program that will provide income-eligible first-time homebuyers with funds to assist with down payments and closing costs.
The credit union is eligible for up to $110,000 in funding from the Federal Home Loan Bank of Boston's Equity Builder Program. Funds may also be used for homebuyer counseling and rehabilitation assistance.
"Grants of up to $11,000 can be awarded per eligible household," said Karen Mayrand, Director of Residential Lending at St. Mary's Bank. "These grants will make a real difference for families purchasing their first homes."
St. Mary's was recently recognized by the New Hampshire Housing Finance Authority as one of its top participating lenders for 2014. St. Mary's closed a significant number of loans to low- and moderate-income first-time home buyers over the past year.
DeStefano Architects, Portsmouth, has entered into a strategic partnership with the New Hampshire Lodging and Restaurant Association, a statewide trade association for the hospitality and tourism industry in the state.
Environmental Business Journal, recently presented the engineering firm of Tighe & Bond with a bronze medal in recognition of the firm's business achievement in revenue growth.
Sean Aho of Wilton won the silver medal in the pipefitting competition at the recent Associated Builders and Contractors National Craft Championships in Fort Lauderdale, Fla. Aho was presented with the award during ABC's Careers in Construction awards ceremony on March 6, also in Fort Lauderdale.
Aho works at DECCO Inc., Brookline, and is finishing his apprenticeship at Gould Construction Institute.
Rockland, Mass.-based Integrated Builders recently completed construction of a 42,000-square-foot facility for SunGard Financial Systems at 9 Northeastern Blvd., Salem. The $5.7 million project features 38,000 square feet of office space and a 4,000-square-foot raised-floor server facility.
RDK Engineers, Maugel Architects and Goldstein-Milano Structural Engineers also worked on the project.
Residents of Edge of Woods I, II and III in Gilford closed recently on the purchase of their 49-unit park, making it New Hampshire's 112th resident-owned manufactured-home community.
Using training and technical assistance from the New Hampshire Community Loan Fund's ROC-NH program, residents formed the Edge of Woods Homeowners Cooperative Inc., then negotiated with park owners Claire Perrier, Samantha Bernasconi and Michael Normandin to buy the parks for $1.79 million before finalizing the deal with financing from Franklin Savings Bank and the Community Loan Fund.