People and Property: Real Estate and Construction News Roundup
N.H. Job Corps Center nears completion, Keeler promoted at Coldwell Banker … and more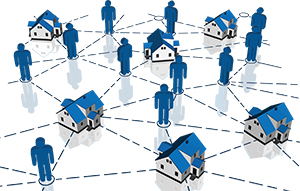 The eagerly awaited New Hampshire Job Corps Center in Manchester is almost completely finished, according to Bedford-based Eckman Construction.
Construction of the seven-building campus on Dunbarton Road was completed on time, and announcement of the facility's operator is expected soon.
Some construction activity will continue at the campus during the spring months as Eckman crews complete additional work requested by the U.S. Department of Labor, the company said.
Coldwell Banker Residential Brokerage in New England has promoted Mike Keeler of Epsom to regional vice president of the company's Northern New England region. In his new role, Keeler will oversee the 13 branch offices in Maine and New Hampshire.
Keeler most recently served as branch manager of the Coldwell Banker Residential Brokerage office in Laconia.
Jeffrey Benway, an engineer at SFC Engineering Partnership, recently provided retaining wall services for The Residence at the Armory, an abandoned armory in Plymouth, Mass. The armory was built in 1906 and has been a local landmark for over a century.
LA Beatz Dance Studio has leased 4,114 square feet of retail space at 109 Gosling Rd., Newington. The studio, owned by Lisa Grondahl, moved from 599 Lafayette Rd. in Portsmouth to Newington, where there is about three times as much space.
Kent White of CBRE|Portsmouth represented the tenant and Brian O'Brien of NAI Norwood Group represented the Landlord in the transaction.
Micorp LLC of Manchester has leased the 2,320-square-foot building, formerly known as the Glass America Building, at 920 Hanover St., Manchester. The property will be used to install automotive accessories.
Tom Dickson of Stebbins Commercial Properties represented the landlord in the transaction.
Olde Tyme Craftsmen Exquisite Wood Floors of Hooksett has been awarded "Best Of Houzz" for customer satisfaction by Houzz, an online home remodeling and design platform. The 33-year-old contracting firm of custom hardwood floors and stairways was chosen by the more than 25 million monthly unique Houzz users from among more than 500,000 active home building, remodeling and design industry professionals.
"We learned about Houzz in July 2014 at a meeting of the Lakes Region Home Builders Association and felt that their platform was very suitable to our business and would be very helpful in marketing our custom services in the growing world of social media marketing," said Ron Charpentier, owner of the Hooksett firm.
Steel erection is now complete, while roofing and exterior metal stud framing is ongoing, at the Student Success Center on the campus of Great Bay Community College in Portsmouth.
The one-story, 20,000-square-foot addition will include a gymnasium, administrative offices, a student lounge, an exercise space, and locker rooms.
North Branch Construction Inc. of Concord is the general contractor.
Manchester-based Kalwall Corp. and Structures Unlimited Inc. have added Mays Maune McWard Inc. as their distributor in parts of Illinois and Missouri.
Mays Maune McWard, headquartered in St. Louis, Mo., has been a provider of architectural building products since 1936 and a specialty contractor since 1995.
Meanwhile, Structures Unlimited has named Mark McNichol as its director of sales. McNichol previously worked at
AGC Glass, where he was north regional sales manager.