People and Property: Real Estate and Construction News Roundup
Jewett's new controller, North Branch promotes two, hires one … and more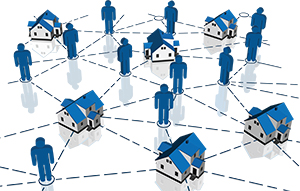 Nancy Hutchins of Nottingham has been named the new controller of Jewett Construction Co. Inc., Raymond. Hutchins, who holds a bachelor's of business administration from the University of New Hampshire, has over 15 years of construction industry accounting experience.
Christine Abichaker has joined Eckman Construction, Bedford, as a member of the company's estimating department. Abichaker most recently worked at Black & Veatch, an engineering, consulting and construction firm in Burlington, Mass., where she served as a civil design engineer.
North Branch Construction, Concord, has promoted Nicolas Trudel of Methuen, Mass., to project superintendent and Gabe Dinicola of Salem to assistant project manager. Both men have been with the company for almost four years, starting as jobsite carpenters.
The company also has hired Donna Alley of Concord as a project manager assistant.
RE/MAX Bayside has added Jim Miller of Center Harbor to its sales staff as a broker. Miller, who has four decades of experience, most recently worked with Nash Realty, prior to the retirement of its owner, Roger Nash.
Ed Settino, a senior broker associate of New Hampshire Business Sales, Pembroke, has been named the firm's Broker of the Year for 2014. It is the third year in a row that Settino has earned the honor.
Prolman Realty Inc., Nashua, has announced the lease of 2,256 square feet at 30 Temple St., Nashua, to Healthy Perspectives-Innovate Mental Health Services PLLC.
Mark Prolman, who represented the tenant and assisted the landlord, CREG-Temple Street LLC, the space will be used for medical research and professional clinical offices.
Michelle Hayward, mortgage loan officer at the Savings Bank of Walpole has been chosen by the New Hampshire Housing Finance Authority as one of eight fellows to participate in its inaugural Homeownership Fellowship Program. The NHHA selected only eight Fellows through a competitive process that was open to members of the state's mortgage lending community.
The Homeownership Fellowship Program is designed to engage lenders and have them examine the larger picture of housing in the state with New Hampshire Housing, and to enrich their understanding of the opportunities and challenges of creating affordable housing.
Matt Burt has joined Coldwell Banker Linwood Real Estate as a sales associate in the company's Littleton office.
Andrew Smith, broker/owner of Peabody & Smith Realty, Franconia, was among the speakers at the recent Leading Real Estate Companies of the World annual conference in Las Vegas. The event was open to brokers, managers and relocation professionals affiliated with LeadingRE, a global network of more than 500 real estate firms.
Smith shared insights on the real estate market, trends and technology affecting the small brokerage market.