People and Property: Real Estate and Construction News Roundup
CATCH wins $100k grant, B2W Software unveils cloud product … and more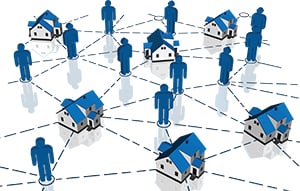 Concord-based CATCH Neighborhood Housing has been awarded a $100,000 affordable housing grant through the TD Charitable Foundation's Housing for Everyone grant competition. The grant will be used to support the completion of the second phase of CATCH's Bow Highlands affordable rental development.
The second phase of Bow Highlands will add another 16 apartments for working families in Bow. The apartments will join 20 that were built as the first phase of Bow Highlands, which opened in 2010.
Portsmouth-based B2W Software, a provider of enterprise-class construction software, services and solutions, has introduced B2W Cloud, a comprehensive cloud solution that features the firm's entire Operational Networked Elements (ONE) platform, creating a flexible mobile tool that gives construction professionals access to core business data with the highest levels of uptime, security and scalability.
Barristers Title & Closing Services, Manchester, has announced the addition of Darleen Dumont as marketing and closing specialist. The law firm of Cronin, Bisson & Zalinsky, P.C, is parent company of Barristers.
Joseph Picoraro has been promoted to vice president at PC Construction, the regional construction firm based in Portland, Maine.
Cobb Hill Construction Inc., Concord, has been recognized by the National Association of Home Builders as the first-place winner in the 2014 NAHB/Builders Mutual Insurance Company Safety Award For Excellence award in the category of Single Family Builder Safety Program of the Year for 11 to 100 home starts per year.
The award recognizes companies for their dedication to best safety practices and procedures that ensure home builders, trade contractors, and workers in the residential construction industry complete each day safely so they may return home to their friends and family.
Salem-based CPM, Construction Planning and Management, has announced that Hooksett Family Chiropractic has taken space at to Riverside Park in Hooksett. The practice is owned by Dr. Darcy Crisp.
North Branch Construction Inc. of Concord has completed renovation of Liberty Utilities' electrical division emergency call center building in Lebanon.
Construction included the selective demolition of 6,500 square feet of existing office space, which was renovated into a work area for the company's call center and customer service employees.
Lauer Architects of Goffstown provided design for the project.