People and Property: Real Estate and Construction News From Around NH
Cranmore starts next phase of $50 million expansion … and more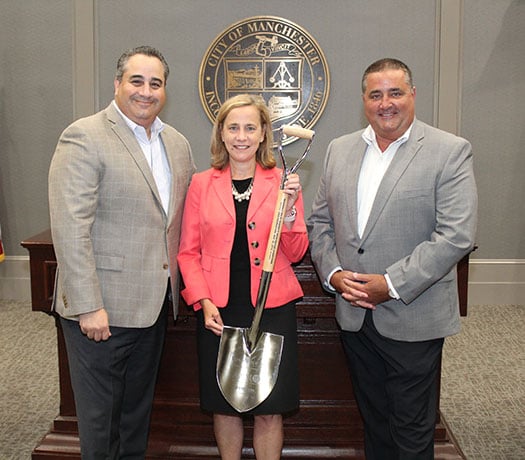 Bangor Savings Bank, which recently acquired the 76-82 N. Main St. properties in downtown Concord, said it plans to renovate the first and third floors of 82 N. Main for a branch with lending and wealth management services. The second floor of the building and 78 N. Main will be renovated for future tenants, the bank said. The full-service bank branch is expected to open in March of 2020 with 14 employees and room for more. Landry/French Construction will be the general contractor.
Raymond, NH-based Jewett Construction's Scarborough, Maine, office has added Steve Duhaime to its project management team.
The Governor's Advisory Commission on Intermodal Transportation, which is made up of the five executive councilors and the commissioner of the New Hampshire Department of Transportation, will host a public meeting at 3 p.m. Aug. 14 at the Dover Public Library Lecture Hall, 73 Locust St., Dover. The meeting will include presentation of the recommendations of the draft 2021-2030 10-year plan. Other GACIT meetings will be held at locations throughout the state in the fall.
Ground will be broken on Tuesday, Aug. 20, to mark the official start of work on the second phase of Cranmore Mountain Resort's $50 million base area redevelopment plan, Kearsarge Brook Condominiums at Cranmore. The groundbreaking will take place at the base of Cranmore's South Slope at 10:30 a.m. in North Conway.
With a projected completion date of December of 2020, Phase II includes 19 two- and three-bedroom units ranging in size from approximately 1,249 to 2,082 square feet. Phases III, IV, V and VI will consist of both residential and day-ski facilities. The Fairbank Group, headed by Brian and Tyler Fairbank, are developers of the project. Other partners include Atlantic Construction Group of Massachusetts, Bull Stockwell Allen, architect of San Francisco, Portland, Maine-based architect Archetype and HEB Engineers of North Conway. Badger Realty is the official real estate broker.
The New Hampshire Good Roads Association will host #DigitNH—Equipment Expo & Clambake on from 10 a.m. to 3 p.m. Saturday, Sept. 7, at New Hampshire Motor Speedway in Loudon. The event open to the public and tickets are $5.00 per person, $20 for families of four or more and kids under 6 are free. Admission includes free water and soft drinks throughout the day. For more information, contact Brenda Clemons 603-224-1823 or visit nhgoodroads.org.
The U.S. Department of Housing and Urban Development will join with representatives from New Hampshire, Maine and Vermont on Aug. 15 to provide updates and discuss strategies around efforts to end veteran homelessness in each state. The event will run from 8:30 to 11:30 a.m. at the Institute of Politics at Saint Anselm College, 100 Saint Anselm Drive, Manchester.