People and Property: Real Estate and Construction News From Around NH
Verrette name to manage leasing, development of Tuscan Village's second phase … and more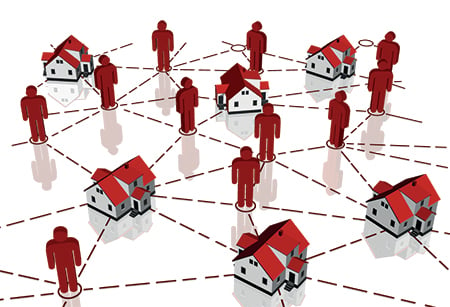 The Seacoast Board of Realtors reports that a record 12 homes valued at $1 million or more were sold in August – a record for a single month – in its 13 sample Seacoast communities. The transactions helped boost the August monthly median sale price to $515,000, the third time this year that median sale prices have exceeded $500,000, the Realtors report. August monthly totals lagged behind last year, however, by 14.7%.
For the first eight months of 2019, single-family sales are up 4.2%, although the cumulative median sale price is where it was last year, $475,000.
Jewett Construction has hired Lauren Biddle of Center Barnstead to work as a project accountant and administrative assistant at the company's Raymond location.
Some 1,239 square feet of office space at 1117 Elm St.in Manchester has been leased by BT Consulting LLC from CMS Real Estate LLC of Westbrook, Conn. Tom Dickson of Stebbins Commercial Properties represented the landlord and assisted the tenant in the transaction.
Glenn Verrette, formerly a senior partner and executive real estate firms Equity Office, Cassidy Turley and Cushman & Wakefield, has been named to manage leasing and development efforts for the second phase of Tuscan Village, the over 3 million-square-foot mixed-use development taking shape in Salem. Phase 1 of the development, the 50-acre North Tuscan Village, was recently completed. The second phase, The Rock at Tuscan Village, will feature over 1 million square feet of office, healthcare and life sciences space.
Manchester-based Metro Walls recently raised $1,585 for the National Pancreatic Center Foundation with its first Annual Rally for a Cause, a motorcycle ride for charity. The trip started in Manchester and ended at the Broken Spoke Saloon in Laconia. Twenty-five motorcycle enthusiasts from Metro Walls, Exterior Designs, Atlantic Prefab and Patriot Building Systems took part.
Brookstone Builders Inc., Manchester, has been awarded a renovation project by the New Hampshire Department of Transportation involving the interior renovation of some 5,000 square feet in the New Hampshire Army National Guard's Meddet building in Concord. The project will create expanded and updated clinical and office space. Roger Landry will serve as Brookstone Builders' Project Manager.
The New Hampshire Liquor Commission will open a new 19,000-square-foot NH Liquor & Wine Outlet in West Lebanon on Thursday. Located at 265 Plainfield Rd. off Route 12, the new outlet is more than double the size of the existing location in Powerhouse Plaza. The commission announced plans earlier this summer to build a 12,000-square-foot outlet in Tilton.
New Hampshire Mutual Bancorp recently opened a second operations center at 16 Foundry St. in Concord. The location will serve as the new base for operations, executive management and finance employees of NHMB and Merrimack County Savings Bank. The center is housed on the entire third floor and in two-thirds of the building's second floor. NHMB's other operations center is located at the Seneca Ladd Building in Meredith.