People and Property: Real Estate and Construction News From Around NH
Home Smart Realty franchise opens in Bedford, NH-based Clear Choice opens Mass. office … and more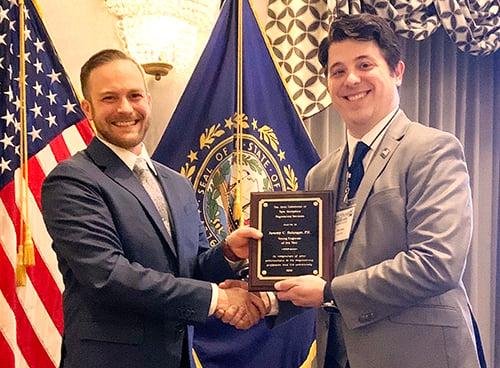 Springfield, Vt.-based One Credit Union has opened a new branch in the Shaw's Plaza on John Stark Highway in Newport, NH – the credit union's seventh branch and its second in New Hampshire. The building was designed by the NES Group of Massachusetts and built by JLN Contracting out of Auburn, NH. The branch will be managed by Patty Kober, who has over 33 years of experience in financial services.
Infinity Realty Group of Londonderry has merged with Bedford-based Keller Williams Metro. Broker-Realtors Cheryl Hazzard and Amanda Butler, along with Realtors Terri Byerly and Julie Dolliver, will continue to serve clients from the IRG location in Londonderry.
Munise Ulker has opened HomeSmart Success Realty in Bedford, part of ​HomeSmart International, which has a 100% commission brokerage model. As part of HomeSmart, Success Realty agents will get to keep 100% of their commission and have free access to productivity software, online marketing materials, live and on-demand training sessions and agent support, Ulker said.
Manchester-based Clear Choice Home Improvements has opened a second office in Taunton, Mass. "The decision to expand across New England and open a second office that allows us to service central Massachusetts, southern Massachusetts, Cape Cod and Rhode Island was a logical step in our business growth strategy," said Jennifer Lanigan, marketing director.
The University of New Hampshire has awarded the Parsons Hall-Iddles Wing renovation project to Chapman Construction/Design of Newton, Mass. The 13,000-square-foot project includes improvement of two large lecture halls, two flat-floor classrooms and adjacent corridors and stairwells as well as replacement of the associated HVAC system. In addition, a new student commons space will be created. Architect and engineer is Harriman Associates, based in Portland, Maine.
Paula L. Scales, president of Brookstone Builders Inc., Manchester, has been included in the 2020 Trademark Women of Distinction Honors Edition. The publication highlights the professional accomplishments and stories of women in business.
Versona, a retailer of women's fashion and accessories, has announced it will be opening its first two locations in New England this spring – one at the Pheasant Lane Mall in Nashua and the other at The Mall of New Hampshire in Manchester.
New England Family Housing will hold a ribbon-cutting ceremony on Friday, March 20, to celebrate its revitalization of the Goddard Block in downtown Claremont. The renovation has created 36 studio, one- and two-bedroom apartments and three retail and commercial spaces. The event begins at 10 a.m. at 54 Pleasant St., Claremont.