People and Property: Real Estate and Construction News From Around NH
Portsmouth restaurateurs seek to build employee housing, Xavier named NHAR Good Neighbor … and more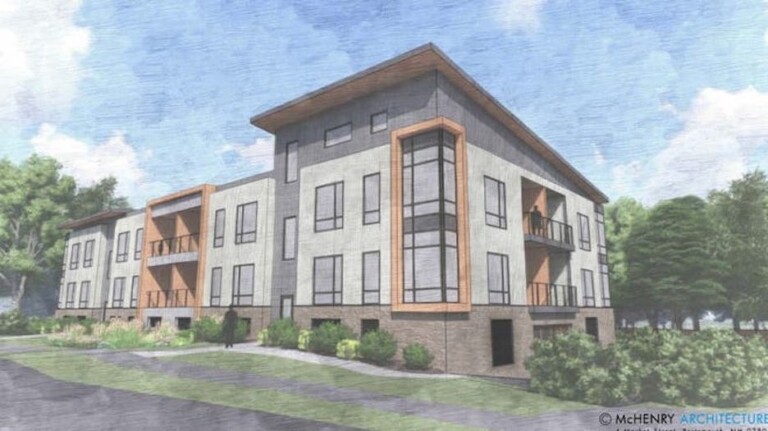 Portsmouth restaurateurs seek to build employee housing Brothers Peter and Michael Labrie, the owners of a number of well-known Seacoast restaurants, are seeking to redevelop a Lafayette Road property they own and transform it into an apartment building with 16 units for their employees, according to documents filed with the city.
The Labries own Jimmy's On Congress in Portsmouth, a jazz and blues club, along with a number of several restaurants, including the River House and The Atlantic Grill.
The brothers' attorney, Derek Durbin of Portsmouth, told the Portsmouth Herald that the redevelopment proposal calls for demolishing the existing two-story mixed-use building at 2059 Lafayette Rd. on site and replacing it with a new 8,800-square-foot apartment building, with 16 units and 21 ground-level parking spaces inside the building.
Exeter Y takes steps to slash energy use
The Exeter Area YMCA has made the switch to LED lighting and installed HVAC fan motor controls in an effort to reduce energy usage and lower costs. Unitil, which worked on the project with representatives from the Southern District YMCA – operator of the Exeter facility at 56 Linden St. – provided more than $72,000 in energy-efficiency incentives through the NHSaves program to help cover some of the costs for the work, which included the replacement of 335 interior and exterior fluorescent and HID lighting fixtures with LED lights and the installation of 10 variable frequency drives on rooftop HVAC units. The drives can reduce energy consumption by modulating the motor load on the supply fans to cut energy usage during periods of lower HVAC demand.
The light replacement work cost $70,155, but was offset by $52,616 in energy efficiency incentives, Unitil said.
AECOM, an infrastructure consulting firm, conducted a turnkey
Officials said it the most significant project undertaken by the Exeter Area YMCA since the 40,000-square-foot facility opened in 2015.
Meredith Realtor is NHAR Good Neighbor
Rachel Xavier of Center Harbor, a Realtor with Keller Williams Lakes & Mountains Realty in Meredith, has been selected as the NH Association of Realtors 2023 Good Neighbor Award recipient for her volunteer efforts with the Greater Lakes Region Children's Auction.
As a result, NHAR has donated $5,000 in Xavier's name to the Children's Auction, whose mission it is to financially support and empower Lakes Region area children in need. Since its inception in 1982, the organization has donated more than $8 million to area nonprofits.
This year's Greater Lakes Region Children's Auction is scheduled for Dec. 5-8, during which time NHAR President Ben Cushing will make the official presentation. Xavier will also be recognized during NHAR's Realtor of the Year ceremony on Sept. 19.
Spaulding Academy opens adaptive playground
Spaulding Academy & Family Services recently held the grand opening of its adaptive playground, which officials said is a significant milestone for inclusive play opportunities in New England.
The new playground is one of the largest in the region with over 10,300 square feet of play area. The academy worked with Miracle Recreation, a playground manufacturer in Missouri, and Pettinelli & Associates, a playground equipment supplier in Williston, Vt., in building the playground.
Three promotions at DEW Construction
DEW Construction has announced the promotions of Matt Cadieux and Scott Speyers to senior superintendent and Tom Langlois to assistant superintendent.
Cadieux, who has worked for the company for 22 years, is currently overseeing construction of Building M, a multi-family housing development called Cambrian Rise, located in Burlington, Vt. The building will have a total gross square footage of 252,000.
Speyers recently completed redevelopment of the former Connor Homes manufacturing facility in Middlebury, Vt., into an indoor hemp cultivation and manufacturing facility.
Langlois is currently assisting in the supervision of the new construction of the 34,000-square-foot Williston (Vt.) public safety facility.
West End Yards adds eatery, pet urgent care center
The West End Yards development team of Torrington Properties, Mount Vernon Company and The Doblen Company Inc. has announced that Laney & Lu Café, an Exeter-based breakfast and lunch eatery, has opened in the Portsmouth development's 44,000-square-foot commercial and retail building. In addition, they said PetMedic, a pet urgent care
facility, will open in a separate commercial space, occupying approximately half of a 7,900-square-foot commercial building this fall.
The Merrimack opens eighth branch
A ribbon-cutting ceremony marked the opening of Merrimack County Savings Bank's newest location at 1B Wall Street in Windham. It is the banks' eighth branch.
Located off Exit 3 on I-93 South, the full-service branch is staffed by Silvia Croteau, assistant vice present, branch and business development manager, Amanda Lewis, branch services manager and universal bankers Melissa Cormier and Katherine Hitchcock.
Elm Grove adds three employees
Elm Grove Companies, Manchester, has announced three new hires; Matt Woods, as asset manager and owner's representative, Dean Petruzzi, director of affordable housing, and Michael DiGiammarino, owner's representative.
Woods previously spent 17 years in the hospitality industry, including leadership positions
in operations, asset management and construction. Petruzzi has over 30 years of property management experience, both in market rate and affordable housing. DiGiammarino spent the last four years in the Marine Corps serving in leadership positions in operations, logistics and administration.
Belknap EDC to distribute micro-enterprise grants
The Belknap Economic Development Council will begin allocating over $100,000 to support small business development in the Lakes Region.
Working with the NH Small Business Development Center, Belknap EDC will be able to directly support businesses with accessing technical assistance, business plan development, direct grant, financing, and other resources.
The Community Development Block Grant Micro-Enterprise Program, administered by the New Hampshire Community Development Finance Authority is for low- to moderate-income microenterprises (those with fewer than five employees) and start-ups to provide a full range of entrepreneurial training and technical assistance services.
A qualifying business must be classified as a for-profit entity with five or fewer employees, be in current operation or in start-up mode, be located within Belknap County and meet specific income requirements.