People and Property: Real Estate and Construction News From Around NH
De Serrano joins DeStefano Maugel Architects … and more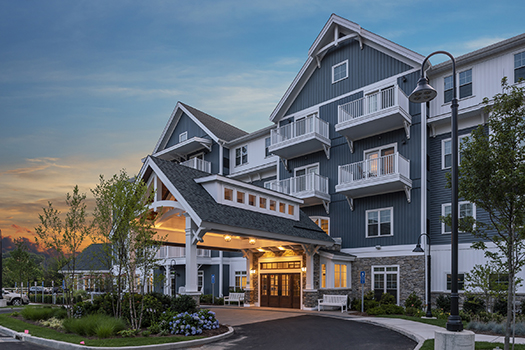 Molly Mulholland has been named general manager of the Tru by Hilton Manchester, which is currently under construction in the Manchester Millyard. Mulholland, who has over 20 years of experience in the hospitality industry, most recently was general manager of the Homewood Suites by Hilton Dover, an 88-room all-suite hotel with 35 employees. The new hotel, which is scheduled to open in August, is owned by Bedford Lot Venture, LLC and managed by Lafrance Hospitality.
UNH Manchester will host a public forum on housing and homelessness in Manchester and New Hampshire featuring a panel of practitioners from the public and nonprofit sectors who will discuss the challenges that lie ahead and the work that's being done to address them. The event, which will be held form 6 to 8 p.m. Wednesday, March 11, at the university, 88 Commercial St., Manchester, will be moderated by Stephen Pimpare, principal lecturer of American politics and public policy at UNHM.
Panelists include: Phil Alexakos, chief operating officer, Manchester Department of Health; Melissa Hatfield, chief, New Hampshire Bureau of Housing Supports; Doug Howard, Manchester homeless prevention and response coordinator; Cathy Kuhn, chief strategy officer, Families in Transition- New Horizons New Hampshire; and Tory Jennison, director of population health for Strafford County.
The event is presented by UNH Manchester's public service and nonprofit leadership program as part of the Sidore Lecture Series.
The Tenants Association at Pease has selected The Chase Home as its 2020 charity beneficiary. Founded in 1877, The Chase Home serves more than 140 at-risk youth and families annually statewide through prevention, intervention, residential and community-based programs.
As beneficiary, The Chase Home will benefit from three TAP member events in 2020: Spring Fling (May 7), Summer BBQ (Aug. 13) and Fall Festival (Oct. 28).
Prolman Realty Inc. has been selected to market The Riverside Building, located at 53-59 Main St., Nashua. The 3,750-square-foot space features outside seating and full lower level and is "turnkey" for a 96-seat restaurant, said Mark Prolman.
Joseph De Serrano – most recently design project manager for a Tampa, Fla.-based international casual dining chain – has joined DeStefano Maugel Architects as a senior architectural designer based in Portsmouth. His experience also includes working with clients in Seattle, Wash., and Bozeman, Mont.
Design-build firm Procon and Waypoint are teaming up again for the annual Waypoint SleepOut 2020 on Friday, March 20. The will be two SleepOut locations this year, in Manchester at the Stanton Plaza in front of the DoubleTree Hotel, and in Exeter on Pine Street at Christ Episcopal Church. Waypoint hosts the yearly event to help raise community awareness and funds for homeless and at-risk youth. In supporting the event, Procon owners Mark and Sally Stebbins will match contributions from businesses sleeping out for the first time up to $1,000. Contact waypointnh.org or call 800-640-6486 for more information.
Attorneys Stephen D. Rosemarino and Tavish M. Brown have joined Hinckley Allen's Construction & Public Contracts Group. Brown has joined the firm as an associate in the Manchester office. Rosemarino has joined the firm as an associate in the Albany, N.Y., office.
Faro Italian Grille, an Italian restaurant in Laconia, has been sold by brothers Richard and Michael Ray to Rob Csendes. No sale price was given. Gary Rayberg, listing broker, and Peter Spanos, selling broker, both of ROI Corp., represented the owners of the restaurant.