People and Property: Real Estate and Construction News From Around NH
New board leadership at ABC, AGC … and more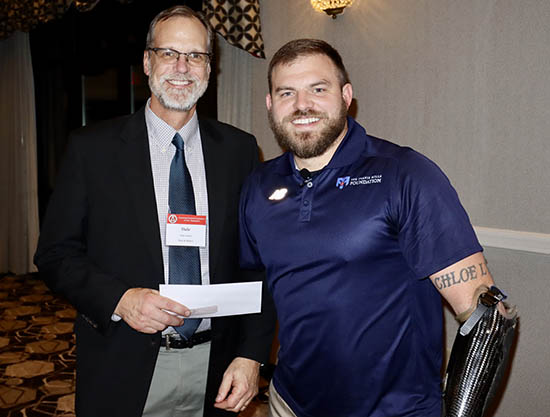 The New Hampshire/Vermont Chapter of Associated Builders & Contractors inducted new leadership for its board of directors at its Jan. 30 annual meeting, which marked the chapter's 35th anniversary. Heading the board for 2020 are: Will Long, Interstate Electrical Services Corp., chair; Matt Johnson, Devine, Millimet & Branch, first vice chair; Dan Smith, H.P. Cummings Construction Company, second vice chair; and Rusty Mosca, Nathan Wechsler & Company, treasurer. Also on the board are: Tim Barton, DECCO Inc.' Bill Hickey, The HL Turner Group Inc.; Eric Horner, The Rowley Agency; Jeff Luter, Fulcrum Associates; Matthew Wheaton, DEW Construction; Greg Bairam, Longchamps Electric; Ron Ciotti, Hinckley Allen; Doug Knott, Knott's Land Care; and Joel Pickering, Denron Plumbing & HVAC.
Larry Major of Pike Industries was inducted as the 2020 president of the Associated General Contractors of New Hampshire at the organizations' 70th annual meeting. Major takes over from Dale Sackett of Beck and Bellucci, who served as 2019 president.
Homeowners in Fox Hill Lane Mobile Home Park in Franconia have purchased their 39-unit manufactured-home park, making it New Hampshire's 132nd resident-owned community, or ROC. With training and technical assistance from the New Hampshire Community Loan Fund's ROC-NH team, the homeowners organized and formed Fox Hill Cooperative Inc. last September. The cooperative then negotiated with the park's owner, Joyce Fisher, and reached a $725,000 purchase price, finalizing the deal Jan. 29 with a mortgage from the Community Loan Fund. Fox Hill Cooperative is Grafton County's 14th ROC. The more-than-8,100 homeowners in New Hampshire's ROCs, spread across every county, also have access to management guidance, technical assistance, and leadership trainings in which they earn college credit.
Jewett Construction recently presented its Construction Safety Excellence Award to superintendent Randy Martin. The award is presented to employees who follow good safety behaviors, drive Jewett's safety standards on project sites and go above and beyond to ensure that Jewett is the safest contractor in the region.
Portsmouth-based B2W Software, a provider of heavy construction management software, recently conducted a survey of more than 200 contractors in North America. More than 40% if the respondents said scheduling and dispatching problems impact project timelines and budgets on a daily basis. Nearly 75% indicated that spreadsheets, whiteboards or paper were their primary tool for managing resource scheduling and dispatching. For 91%, phone calls, emails or text messages were the main method of communicating changes in the schedule. Respondents also said the opportunity to standardize communication across the office, shop and field is the leading driver for investing in new technology for scheduling and dispatching.
The University of Rhode Island has awarded a contract for a new pier design at its Narragansett Bay Campus to Appledore Marine Engineering of Portsmouth. The campus is home port to one of three National Science Foundation-owned oceanographic research vessels.
Ian Clarke of Aries Engineering recently passed the Professional Engineer exam and is now a licensed environmental engineer in New Hampshire. Clarke has been a project manager at Aries since 2016 with a focus on petroleum and hazardous waste site investigation and remediation, regulatory compliance and geographic information system mapping and database management.