People and Property: Real Estate and Construction News From Around NH
Three NH firms take home New England Concrete Association awards … and more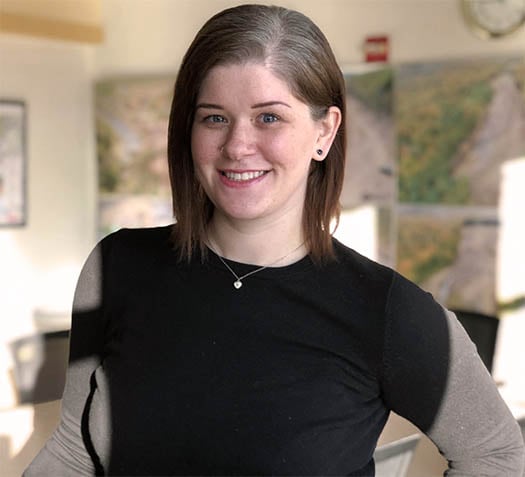 Architect Lizz Melbourne has returned to Portsmouth-based JSA Inc. Melbourne, who previously was with the firm for nearly five years, completed work in JSA's educational, senior living and housing studios.
Coleman Concrete of Conway, Redimix Companies of Manchester and Groen Construction of Rochester took home honors at the recent the Northern New England Concrete Association's 2019 Excellence in Concrete Construction Awards ceremony at Church Landing in Meredith. Coleman won in the infrastructure category for its work on the Bearcamp Relief Bridge on Route 16 in Ossipee. RedimixNH won the concrete pavements category for its work on the KC-46A airfield pavements and aircraft repair parking apron for the Air National Guard at Pease in Newington. Groen won the low-rise concrete building category for the Warner Fire Station in Warner, which was built with insulating concrete forms.
The sale of the 6,940-square-foot commercial building at 764 Chestnut St., Manchester, from Cathy Green Trust of Manchester to Thomas H. Kelley, also of Manchester, has been announced by Mike Reed, president of Stebbins Commercial Properties. Reed represented the seller and Gail McCarthy represented the buyer in the transaction. According to the Registry of Deeds sale price was $550,000.
James Prieto, director of real estate at Granite Commercial Real Estate, Nashua, recently represented Action Structures LLC, of Hollis in the purchase of 20,740 square feet of industrial space at 140 Hayward St., Manchester.
Natalia Kulchitsky of Bedford-based TFMoran team recently passed the professional engineer exam and is now a licensed structural engineer in New Hampshire. She joined the firm's structural engineering team in 2016. Also passing the New Hampshire P.E. exam was Jeremy Belanger, a senior project engineer for TFMoran who has been with the firm's Civil Engineering Department since 2015.
Concord-based Sanborn, Head & Associates has announced the promotions of hydrogeologist Tim White to project director and engineer Seth Soos to head the firm's Energy Group.
Mark Brockelman has joined Brookstone Builders Inc., Manchester, as a project manager and safety officer. He has over 20 years of construction and civil engineering experience, including the design, permitting, construction and maintenance of industrial and municipal treatment plants, sub-divisions, recreational facilities, restaurants, hotels, residential home developments, airports, banks and schools.
Fran Matott of Littleton has joined Peabody & Smith Realty's Littleton office. Matott's strong business background includes sales management with an international firm based in Littleton and owning his own business.
Hampton-based Blue Water Mortgage Corp. is sponsoring of The Pass Along Project charity, which was created by Lynett Kaichen, one of its licensed mortgage brokers. The initiative, which was launched in 2017 after Kaichen and her husband became licensed foster parents, helps other with "up-front" costs related to foster care by providing starter wardrobe "bundles" to children entering the system.