People and Property: Real Estate and Construction News From Around NH
Solar array added at Sullivan Construction's LEED Platinum building … and more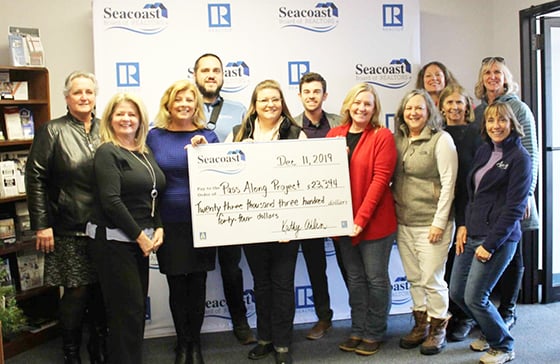 Nine businesses and farms around New Hampshire will be receiving a total of $57,000 in federal funding to help pay for renewable and energy-efficiency projects. Members of New Hampshire's congressional delegation announced the funding, which comes from the U.S. Department of Agriculture's Rural Energy for American Program. Awarded funding were: Port City Air Inc., Portsmouth, $171,633; Sponge-Jet Inc., Newington, $99,820; Froling LLC, Keene, $82,903; Holt Brothers Orchard Partnership, Lyndeborough, $49,999; McKenzie's Farm, Milton, $49,188; NE Solar, Charlestown, $39,846; DC Dawson Inc., Laconia, $28,577; Meriden Hill Maple Farm LLC, Columbia, $27,700; and Solis Inc., Berlin, $27,610.
ReVision Energy recently installed an 80-panel rooftop solar array at Sullivan Construction in Bedford, 25.2-kilowatt array that is expected to generate nearly 28,000 kilowatt-hours of solar electricity and offset 29,000 pounds of carbon pollution per year. The LEED Platinum-certified building's transition to solar will offset nearly half of its electric load. according to ReVision.
On Dec. 12, Laconia Housing dedicated its new residence, Sunrise House, a 16-unit building in downtown Laconia for individuals with disabilities who are 62 and older. "It's truly unique and a one of a kind low-income housing in the state," said Tom Cochran, deputy executive director of Laconia Housing. "It is completely wheelchair accessible." Once the first residents have moved in, Laconia Housing will host an open house with its partners, in either late January or early February. The agency celebrated Thursday's dedication with board members, staff, and town officials.
Occupancy is scheduled to begin in mid-January. Financing was provided by New Hampshire Housing Finance Authority, Bank of New Hampshire and the Federal Home Loan Bank of Boston.
The Greater Manchester/Nashua Board of Realtors has donated a total of nearly $29,000 to several area organizations: Family Promises of Greater Nashua; Hope for New Hampshire Recovery;   Nashua Soup Kitchen & Shelter; Nashua Children's Home; Girls Inc.; Manchester school lunch program; Nashua school lunch program; The Way Home; Liberty House; New Horizons for New Hampshire; NeighborWorks; and SJCS-Meals on Wheels.
Jewett Construction has announced the promotion of Dan Ray to vice president of preconstruction and design. Ray, who started at Jewett in 2012, previously was manager of integrated design.
The second annual Engineers Day Conference at the Puritan Conference Center in Manchester raised $15,000 for the American Society of Civil Engineers-NH scholarship fund. The fund includes two types of scholarships, the Fred L. Douglas High School Scholarship, which aids New Hampshire high school students in their pursuit of an engineering education, and the S. Russell Stearns Scholarship, an annual award for ASCE student members who are enrolled in an accredited civil engineering program. Deadline for scholarship applications is April 30, 2020.
Berkshire Hathaway HomeServices Verani Realty, Londonderry, has promoted Kevin Tengan to vice president of marketing. Tengan has more than 25 years of experience in digital media and technology development.
The Kane Company, Portsmouth, has named the first building in Portsmouth Medical Park the Charles L. Thayer Medical Building after Dr. Charles "Chappy" L. Thayer, a highly regarded physician who served as chief of surgery at Portsmouth Hospital for years. The Charles L. Thayer Medical Building is a four-story, 65,000-square-foot facility built to LEED Silver environmental standards and is currently under construction.
Fulcrum Associates, Amherst, has announced the hiring of six new managers and superintendents: Patrick Madden, Lynn, Mass., superintendent; Chris Gagnon, Milford, project manager; Matthew Proulx, Bedford, assistant project manager; Amanda Sargent, Brookline, assistant project manager; Marcus Swedberg, Auburn, assistant project manager; and Patricia Dwyer, Nashua, contract administrator.