People and Property: NH Real Estate and Construction News Rundown
Preservation Alliance awards, North Branch begins Sig Sauer project … and more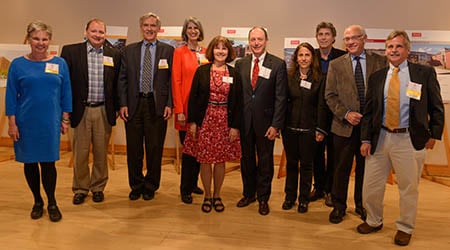 The Nashua wastewater treatment facility dewatering and grit systems upgrade, recently was recognized with am Engineering Excellence Award from the NH Chapter of the American Consulting Engineers Council. Engineering firm Wright-Pierce provided evaluation, design engineering and construction administration for the $5.3 million project.
Winnie Chicoine has joined the Meredith office of Roche Realty Group. She is a licensed Realtor in both New Hampshire and Massachusetts.
A five-year lease for 2,800 square feet at 58 Hawthorne Drive in Bedford has been taken by Milestones Pediatric Therapy Center LLC of Bedford. Mike Reed, president of Stebbins Commercial Properties, represented the landlord, PVS Realty Holdings LLC of Bedford. Ralph Valentine of the Valentine Group represented the tenant.
Manchester-based Kalwall, maker of translucent daylighting systems, has named Jessie Uhlig as sales representative for the area covering western and central Pennsylvania, northern West Virginia and eastern Ohio. Uhlig most recently was marketing director for At Home Nursing and Therapy Services in Zelienople, Pa.
The NH Preservation Alliance presented 11 awards for outstanding historic preservation projects at a Tuesday evening ceremony in Concord.
The awards recognize individuals, organizations and businesses in the categories of restoration and stewardship, rehabilitation, compatible new construction, public policy, and educational and planning initiatives across the state.
The winners were:
• Town of Langdon for the rehabilitation of the Langdon Meetinghouse
• Town of Stark for the rehabilitation of the Stark Covered Bridge
• Town of Rumney for the addition to the Byron G. Merrill Library
• Peter Rhoades for rehabilitation of Drake Farm for Hubbingtons Furniture, North Hampton
• Throwback Brewery for the rescue and reuse of Hobbs Farm, North Hampton
• Town of Wolfeboro for the rehabilitation of Brewster Memorial Hall
• Town of Epping for the rehabilitation of Watson Academy
• City of Portsmouth for the African Burying Ground project
• NH Historical Society for the rehabilitation of the NH Historical Society Building, Concord
• Timothy Nichols for the rehabilitation of the Lang Blacksmith Shop, Newmarket
• Strawbery Banke Museum, Elizabeth Durfee Hengen Award for its Heritage House Program
North Branch Construction of Concord is set to begin construction of a new 18,000-square-foot indoor shooting range at the Sig Sauer Training Academy in Epping. Construction is expected to be complete by early next year. Design for this Design-Build project is provided by Lauer Architects of Goffstown.
Natalia Kulchitskaya, EIT, has joined the engineering firm of Bedford-based TFMoran as a project structural engineer. Kulchitskaya's experience includes steel and timber commercial and industrial buildings, steel tanks, and pressure vessels.
The Greengard Center, which offers a day program for adults with autism, has a new facility, designed by DeStefano Architects, Portsmouth. The new facility offers a variety of flexible spaces for varied activities and learning center programs. An open house will be held from 4 to 7 p.m. on Thursday, May 19, at 95 Brewery Lane in Portsmouth.
The Belknap County Economic Development Council's board of directors recently elected officers for the 2016-17 term: chair, Randy Eifert, Cross Insurance; vice chair, Sean Sullivan, Denoncourt, Waldron & Sullivan; secretary, Gracie Cilley, Meredith Village Savings Bank; and treasurer, Paul Onthank, LRGHealthcare.
New members of the board are: Christopher Kelly, RE/MAX Bayside Realty; Ronald Magoon, Franklin Savings Bank; and Steven Geer, Steven Geer CPA.
Stacey Cochrane of Plaistow has joined Raymond-based Jewett Construction Co. Inc. as its new controller.