People and Property: NH Real Estate and Construction News Rundown
Red Oak acquires Citizens Bank building for $39m, Triangle Credit Union to build new Merrimack branch … and more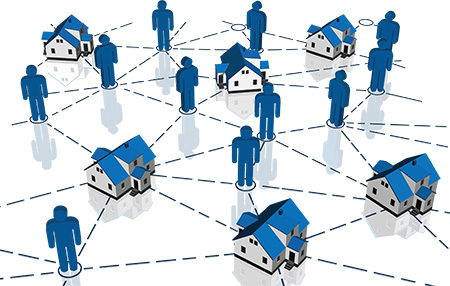 Manchester-based Red Oak Apartment Homes has purchased the Citizens Bank building at 875 Elm St. in downtown Manchester for $39 million from Carlisle Capital Corp. The property features 91 apartments and is home to Citizens Bank offices and the 110 Grill restaurant. Carlisle said it acquired the 140,000-square-foot building in 2015 for $8.2 million. Manchester-based Red Oak has a portfolio with over 1,500 residential units across the state.
Brookstone Builders Inc., Manchester, recently completed a moisture remediation project at the State Library on Park Street in Concord. Work included stone masonry repair, partial roof replacement and the historic mediation, renovation and restoration of vintage ceilings and walls. Jack Boardman was site superintendent.
Brady Sullivan Properties has donated $5,000 to sponsor YWCA New Hampshire's Roaring '20s evening fundraiser, to be held beginning at 6 p.m. Friday, April 12, at the Puritan Conference Center in Manchester. Formerly known as the YWCA's Susan B. Anthony Celebration, the event has served as its primary annual fundraiser since 1979.
Keegan Rice has joined Peabody & Smith Realty's Franconia office.
Al Terry Plumbing, Heating & AC, Hooksett, has added Tony Melendy of Wentworth to its service sales team.
Nashua-based Triangle Credit Union has announced plans to expand its operations with a new 2,000-square-foot branch in Merrimack. Construction of the 2,000-plus square foot building, located at 360 Daniel Webster Highway, is slated to begin this spring.
International engineering firm Thornton Tomasetti has acquired Becker Structural Engineers Inc., a Portland, Maine-based firm. Terms of the transaction, which closed at the end of March, were not disclosed.
Chris Kelly of Bayside ReMax Realty, has been elected chair of the Belknap EDC, the Belknap County Economic Development Council. Other officers elected were: Christopher Walkley, Bank of New Hampshire, vice chair; Paul Onthank, treasurer; and Allison Ambrose of Wescott Law, secretary.
Wicked Fresh Craft Burgers is expected to open a second restaurant, Fire by Wicked Fresh, and two food kiosks at Settlers Green in North Conway in June. Fire will feature Mediterranean-inspired lunch and dinner plates, as well as brick oven pizza. Interior design is being completed by Prellwitz Chilinski Associates of Cambridge, Mass.