People and Property: NH Real Estate and Construction News Rundown
Pelham picked for spring workforce housing charrette, renovations completed at Concord Comfort Inn … and more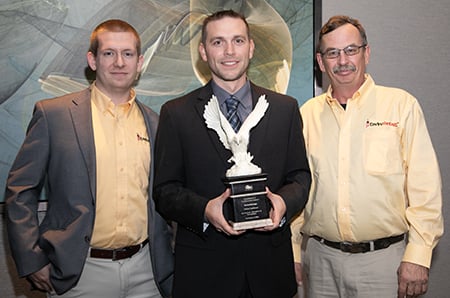 The U.S. Department of Housing and Urban Development has $7.6 million to support new and existing homeless programs across New Hampshire. The agency said the funding represents a record investment to support state and local efforts across the nation to reduce and end homelessness.
David Tille, HUD New England regional administrator, said the funding "is critical to local New Hampshire programs that are on the front lines of helping those who might otherwise be living on our streets. "The evidence is clear that every dollar we spend on those programs that help find a stable home for our homeless neighbors not only saves money but quite literally saves lives."
To view a complete list of New Hampshire homeless projects awarded funding, click here.
Joseph Campbell, president of North Branch Construction in Concord, has been named chair of the board of directors of the Associated Builders and Contractors NH/VT Chapter. Campbell has been a member of the ABC NH/VT board since 2014.
Tilton-based portable and self storage company MI-BOX of Central and Western New Hampshire has been honored by the Lakes Region Chamber of Commerce with a 2019 Golden Hammer Award in recognition of the construction of the firm's new headquarters at 405 Laconia Rd.
Eckman Construction Vice President Preston Hunter has been elected chair of the board of directors of the Greater Manchester Chamber of Commerce.
CATCH Neighborhood Housing has announced that its president, Rosemary M. Heard, has been named to the Concord Hospital board of trustees.
Brian Beaudoin of Concord-based Sanborn Head's Burlington, Vt., office has assumed overall responsibility for leading the firm's solid waste business unit, succeeding David Adams, who now heads the company's recently opened office in Denver, Colo.
NBT Bank has made a $5,000 contribution to NeighborWorks Southern New Hampshire in support of homeownership and financial literacy education and counseling services offered by the HOMEteam in New Hampshire, which is a collaboration of NeighborWorks®, CATCH Neighborhood Housing and Lakes Region Community Developers.
The town of Pelham has been chosen by the Regional Economic Development Center of Southern New Hampshire and the Workforce Housing Coalition of the Greater Seacoast as the site of a Workforce Housing Coalition design charrette in this spring.
It will be the first project the two organizations tackle collaboratively after forming a strategic partnership in June.
Sarah Wrightsman, executive director of the Workforce Housing Coalition, said the charrette "is an opportunity to pilot the services we are already providing, but in an area that is currently underserved. Hillsborough and Rockingham counties are home to nearly half of the state's rental units and have the highest gross rents for two-bedroom units."
Wrightsman said the charrette is "an opportunity to help a community identify the barriers to workforce housing and begin to address them."
Herbie Bartlett of Coldwell Banker LinWood Real Estate's Franconia office has been named to the International Diamond Society by Coldwell Banker for her production in 2018. The honor is given to the top 15 percent of Coldwell Banker sales associates worldwide.
The second phase of leasing has begun at The Shoppes at 655 South Willow Street in Manchester, according to Brady Sullivan Properties and Summit Realty Partners. There are now six fully committed tenants at the property: Life Storage; Core Medical Group; Firehouse Subs; Popeye's; Kung Fu Tea; and Glossy Nails.
A $4.1 million renovation has been completed at The Comfort Inn at 71 Hall St. in Concord. Upgrades include new siding, new windows, solar panels, LED lighting, recycling and waste reduction as well as a saltwater pool.