People and Property: NH Real Estate and Construction News Rundown
Sanborn, Head expands to Colorado … and more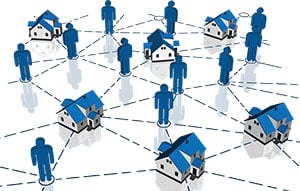 Larry Pelletier, a 30-year veteran of commercial real estate investing and asset management, has opened a local office of the international franchise SVN at 3 Executive Park Drive in Bedford.
For the past 20 years Pelletier has been an active investor with two private equity firms. As principal and partner at T-Rex Capital Group, he was responsible for acquiring, financing, managing and disposing over 5 million square feet of commercial assets nationwide, which included office, retail, apartment communities, industrial, data centers, resorts and land developments. As founder and chief operating office for Experis Data Centers, he acquired, leased and managed a 75,000-square-foot data center in Virginia that was recently sold to a venture capital fund. By the end of 2018, Pelletier is expected to add one or two additional individuals to his team.
Tradeport USA has leased 34,500 square feet of industrial space at 1 Progress Drive in Dover. The company, which is based in Somersworth, was represented by David Choate of Colliers International's Portsmouth office and Kent White of CBRE|Portsmouth represented 1 Progress LLC, the landlord.
Concord-based engineering and consulting firm Sanborn, Head & Associates Inc. has opened a new office in Denver, Colo. and has hired a local solid waste specialist, Marcel Kozlowski as senior project manager in the office.
The new location expands Sanborn Head's geographic footprint beyond New England, where it already has offices in Boston and Burlington, Vt.
"Sanborn Head is excited to be expanding our scope of services outside of the Northeast," Mr. Adams said. "An office in Denver allows us to define our footprint nationally and deliver an exceptional level of service to our western clients," said David Adams, senior vice president of the firm.
Structures Unlimited Inc., Bow, has introduced decorative rolled tubes as a new architectural element to add to a building project.
"We wanted to offer a more ornamental appearance to our designs and the decorative rolled tubes accomplish that," says Mark McNichol, Director of Sales for Structures Unlimited, Inc. "We spent a considerable amount of time making sure we produced just the right look and we couldn't be happier with the finished product."
The rolled tubes add radius elements to connect with other elements on the site and soften the lines of the units, the company said.
A first-of-its-kind solar array will be unveiled Nov. 289 at Mascoma Meadows, a resident-owned manufactured home community in Lebanon.
Power generated by the array will save each of Mascoma Meadows' 50 low and moderate income households nearly $270 each year, increasing affordability while reducing the community's carbon footprint, said ReVision Energy, which installed 132.48-kilowatt, ground-mounted array.
The solar array is financed by ReVision Solar Impact Partners, an impact investing fund involving mission-driven impact investors and the NH Community Loan Fund to provide low-cost power purchase agreements to nonprofits that could not otherwise afford to go solar.