People and Property: NH Real Estate and Construction News Rundown
Norton, Harrington & Reeves merge, Great North opens R.I. office … and more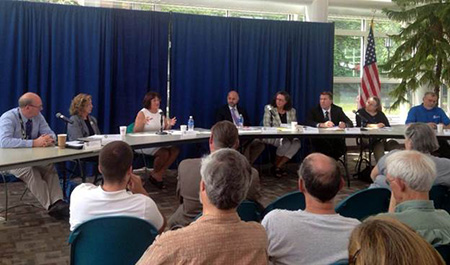 NH Sen. David Boutin, R-Hooksett and Tricia Newhall Grahame of The Abacus Group and Tarkka Homes have joined the board of directors of the Builders Care NH Foundation.
The foundation, established by the NH Home Builders Association, is designed to provide a way for the state's home building industry to give back to the community through charitable giving of its time and resources. In addition, the foundation has a goal of developing programs and partnerships to address the industry's workforce development needs.
For more information, contact Kendall L. Buck, Kearsarge Management & Consulting, 603-608-6670 or klbuck29@gmail.com.
Exeter-based condo association management firm Great North Property Management has opened a new office in Warwick, R.I. The opening comes as a result of the firm's recent acquisition of G&G Management, said Great North Senior Vice President Justin Gargiulo.
Great North currently manages more than 300 associations totaling over 20,000 units, with offices in Exeter, Nashua and Bretton Woods in New Hampshire as well as Boston, Newton, Peabody and Foxboro in Massachusetts and Wells, Maine.
Norton Asset Management and Harrington & Reeves, both Manchester-based commercial real estate firms, have merged.
Bill Norton, president and founder of Norton Asset Management, along with Deane Navaroli and Mike Harrington, principals of Harrington & Reeves, said under the combined company, Harrington & Reeves and Norton Asset Management will focus on delivering commercial real estate brokerage and transactional services as well as consulting/advisory services.
"We are excited to be joining such well respected firms. This milestone in the history of our companies is the beginning of a new journey to deliver superior service to our clients," said Norton.
Raymond-based Jewett Construction Co. has hired Kevin Radziwon of Candia as the latest member of its project management team.
Tinkham Realty Inc. has announced the sale of 55 Bridge St., Manchester, to Riverview LLC of Windham. The property consists of a 10,800-square-foot, three-story building and will be the future home of the restaurant Cabonnay Urban Wine House. Jerry Hersch of the commercial division of Tinkham Realty represented the buyer, and Mark A. Lacombe of Inex represented the seller, The Milnes Family LLC of Manchester. Sale price according to the Hillsborough Registry of Deeds was $469,000.
Cameron Lilley has joined the Manchester office of RE/MAX Insight. Formerly of Keller Williams Realty Metropolitan, Lilley has worked with clients throughout southern New Hampshire.
Attorneys Michael R. Bosse of Bernstein Shur and Karen A. Schlitzer of the NH Attorney General's Office have co-authored the "Damages in Construction Litigation" chapter in the newly published, "A Practical Guide to Construction Law and Litigation in New Hampshire."
Published by Massachusetts Continuing Legal Education, the new publication is a guide for legal practitioners in the state.
In their chapter, Schlitzer and Bosse analyze the defining elements of a contract, the process of interpreting breach of that contract, and the damages that are available throughout the litigation process.
Nate Sanel and Amy Sanel have sold 716-718 Riverwood Dr., Pembroke, to EREH IV LLC. The light industrial property, which sold for $800,000, was one of the former homes of National Powersport Distributors. EREH is owned by investment partners David Cowie and Matthew Clark. Broker Brenda Litchfield of Concord Commercial Real Estate and Concord attorney Kimberly Burgess represented the sellers and attorney Eben Adams of Pierce Atwood represented the buyers.
Homeless service provider Families in Transition recently held a ribbon-cutting ceremony at its newest housing development on Spruce Street, Manchester. The building, formerly a blighted, inner-city property, has been transformed into a four-unit apartment building for low-income individuals and families. It is FIT's 20th property.
KeyPoint Partners LLC, Burlington, Mass., has been awarded the contract to lease several vacant former Shaw's Supermarkets locations in New England, and to sell a parcel of land in Raymond, NH.
The available spaces range in size from approximately 48,100 to 68,700 square feet. In New Hampshire, the former supermarket locations are located in Gorham and Manchester. The 9.78-acre Raymond parcel is located at the intersection of Routes 101 and 107. The Massachusetts properties are in South Brockton, Fall River, New Bedford, Taunton and Webster.