People and Property: NH Real Estate and Construction News Rundown
Madden joins RE/MAX, North Branch completes Portsmouth liquor store … and more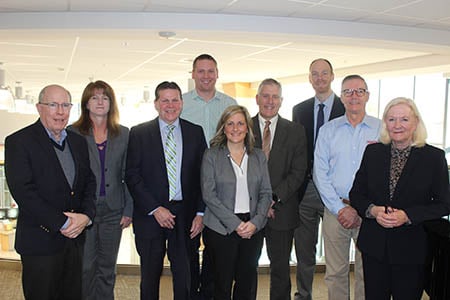 CATCH Neighborhood Housing recently celebrated the 10th anniversary of its Friedman Court II, an affordable housing community in Concord for people 62 and over. The three-level building houses 41 apartments, including 35 one-bedroom and six two-bedroom apartments. The property was completed by Gary Chicoine Construction, designed by Warrenstreet Architects, and the legal work was done by Orr and Reno.
North Branch Construction of Concord recently completed construction of a new NH Liquor Commission Liquor & Wine Outlet at the Portsmouth Traffic Circle. The new 23,000-square-foot outlet nearly doubles the size of the previous store, which is being demolished. The project designer was Oak Point Associates.
Fellowship Housing Opportunities has received a $10,000 grant from the Oleonda Jameson Trust and a $15,000 grant from the Cogswell Benevolent Trust to purchase a new vehicle for Fellowship House, its licensed community residence. Fellowship House provides affordable housing with support to people who live with mental illness.
Septima MacLaurin has joined Chapman Construction/Design, Manchester, as director of business development.
Tom Dickson of Stebbins Commercial Properties, Manchester, has announced the sale of the 4,800-square-foot building at 39 Depot St., Merrimack, by Argus 1 LLC of Hollis to Mario Bartoli of Bedford. Dickson represented the seller, Argus 1 LLC, and assisted the buyer in the transaction. According to the Registry of Deeds, sale price was $291,000.
Madden Real Estate of Rye has become Madden Real Estate|RE/MAX Rising Tide. The firm's eight Realtors will still be working out of the office at 371 Sagamore Rd. in Rye.
Homeowners in Brae Burn Court Mobile Home Park in Gorham have purchased their 30-unit manufactured-home park on Oct. 31, making it New Hampshire's 127th resident-owned community, or ROC.
Using training and technical assistance from the NH Community Loan Fund's ROC-NH team, homeowners organized and formed The Village At Brae Burn Cooperative in February 2017. The cooperative's members elected a board of directors and worked closely with ROC-NH to make the purchase a reality. Purchase price was $750,000, with a mortgage from the Community Loan Fund.