People and Property: NH Real Estate and Construction News Rundown
North Branch completes two Hooksett projects … and more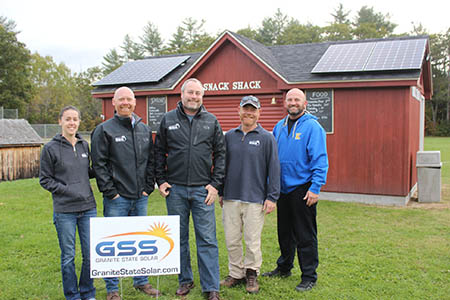 The NH Liquor Commissionopened two new liquor and wine outlets in the last week: a new 22,000-square-foot store at the Portsmouth Traffic Circle and a 6,500-square=-foot renovated store in downtown Lancaster. The NHLC projects the new Portsmouth outlet, which was already the state's fifth-highest grossing site in terms of total sales, will generate $26 million in annual sales, a more than $3.5 million, or 16 percent, annual increase. With the Lancaster outlet's opening, the commission said it plans to consolidate the Groveton outlet by Nov. 30.
Housewright Constructionof Newbury, Vt., recently welcomed two members of Boy Scout Troop 273 to a construction site in Lyme, NH, where the firm is remodeling a home and building a second-story addition. The purpose of the visit was to provide the opportunity for the two scouts to meet requirements to earn their Model Design and Building merit badge.
Some 25 new companies became corporate donors in the Stebbins Family Challenge for Granite United Way and earned a seat on the bus to a New England Patriots game at Gillette Stadium. All told, the challenge has added 50 companies in total and raised over $300,000 in the last two years. The challenge match is spearheaded by Procon owners Mark and Sally Stebbins, are longtime United Way longtime contributors and Alexis de Tocqueville Society members.
Extensive upgrades of the energy infrastructure at Whole Village Family Resource Center and the neighboring Bridge House shelter in Plymouth are projected to save up to $25,000 annually in propane and electricity costs. It was the culmination of a 2½-year project that involved nearly as many partners as the number of solar panels installed on the roof of the two buildings. The Granite United Way, NH Charitable Foundation, NH Electric Cooperative and Plymouth Area Renewable Energy Initiative joined forces to identify energy-saving opportunities and create a detailed project schedule. The result has been an overall 80 percent reduction in annual electricity consumption, officials said.
Concord-based North Branch Constructionrecently completed two projects along Route 3 in Hooksett.
One, a new, $10 million field maintenance shop for the NH Army National Guard, consisted of a 27,200-square-foot field maintenance building and a separate 2,435-square-foot metal storage building. The new facility, currently obtaining LEED certification, has combined the Manchester and Hillsborough field maintenance shops into one location to support the maintenance and repair of combat and tactical vehicles.
North Branch also completed an addition to Shooter's Outpost in Hooksett, a retail facility offering firearms, firearm accessories, ammunition, tactical apparel, safes and other merchandise. The new space provides a new display area, increased retail space, a café with commercial kitchen, employee offices, training space, new bathrooms, and inventory storage. Cowan and Goudreau Architects also worked on the project.
The St. Johnsbury, Vt.-based Northern Community Investment Corp.is offering technical assistance and professional consulting services to small businesses in its region. Assistance includes: Energy Efficiency Audits/Design; Engineering and Architectural Reports; Permitting Assistance; Business Coaching; and education and training.
To be eligible, a business must have five or fewer full–time equivalent employees and a business owner household must meet with income eligibility requirements. For more information, visit ncic.org.
Manchester-based Kalwall Corp. has hired Michael Maguireas sales representative for its Mid-Atlantic territory, which includes parts of Maryland, Virginia and West Virginia. He was most recently a technical sales specialist for Rockwool, a sustainable building manufacturer of stone wool insulation.
Opera Northin Lebanon has received a $50,000 grant from the Timken Foundation for stabilizing and repairing the historic Charles Beaman farmhouse at Blow-Me-Down Farm in Cornish, for future use as a base for Opera North's activities. The project is the result of a partnership by Opera North and the National Park Service at Saint-Gaudens National Historic Site, which owns the farm. The project is being directed by architect R. Andrew Garthwaite.