People and Property: NH Real Estate and Construction News Rundown
Three transactions for Stebbins' Reed … and more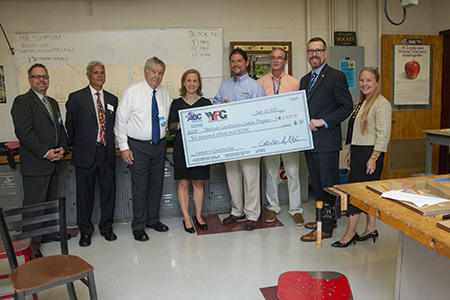 R.W. Gillespie & Associates Inc., a geotechnical engineering firm in Biddeford, Maine, and Portsmouth, NH, has hired Daniel Burgessand Serena Papeas engineers and Zach Vincentas marketing administrator.
Fulcrum Associates, Amherst, has been selected by Portsmouth Regional Hospital as construction manager for the organization's freestanding, 10,000-square-foot emergency room in Dover. Construction is scheduled to be complete by mid-March of 2019. The emergency room will have 11 treatment rooms including trauma care, behavioral health, pediatric care, full diagnostic testing, and laboratory and imaging services.
The 40,000-square-foot building at 20 A St., Derry, has been sold by 20 A Street LLC of Londonderry to Tri-K Industries of Denville, N,J. Mike Reed of Stebbins Commercial Properties, Inc. represented the seller and David Turner of Debbie MacKenzie Realty represented the buyer in the. According to the Registry of Deeds the sale price was $2,075,000.00.
In addition, Reed announced two recent leases. Some 1,250 square feet at 815 Elm St., Manchester, was rented by from SPS2 Realty Holdings LLC of Manchester to Musco Sports Lighting of Iowa. Reed represented the landlord and Tom Roche of Keller Williams Realty Metropolitan of Bedford represented the tenant. Granite Pathways of Concord has leased 2,520 square feet at 303 Belmont St., Manchester from David Baughman. Reed represented the landlord and assisted the tenant in the transaction.
Manchester-based Kalwall,through its U.K. distributor Structura and German curtain wall maker RAICO, pitched in to help a London boxing club rebuild after the devastating Grenfell Tower fire destroyed its home. The community effort to provide the Dale Youth Amateur Boxing Club of London with a new facility was featured on the BBC show, "DIY SOS," documenting the project after the club's previous home was lost in the deadly fire that caused 72 deaths and destroyed the Grenfell Tower in June 2017.
Kalwall, Structura and RAICO provided the curtain wall system that envelops the building. The façade includes 656 square feet of Kalwall translucent sandwich panels that are incorporated into RAICO's THERM+ stick-built curtain wall.