People and Property: NH Real Estate and Construction News Rundown
Housing Authority awards grants, Exit 4A meeting scheduled … and more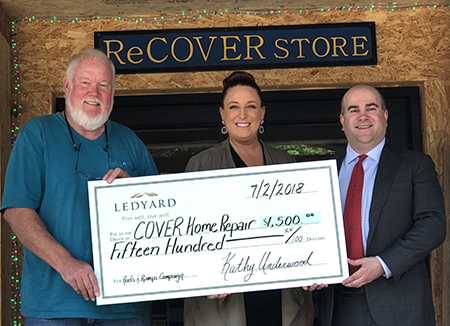 Amherst-based construction management firm Fulcrum Associates has issued a call for participants in its Sept. 10 Fulcrum Charity Golf Classic to benefit the NH Food Bank. The goal of this year's event, to take place at Manchester Country Club in Bedford, is to raise at least $12,000. All proceeds from the scramble format tournament will be donated to the Food Bank. Registration is $250 per golfer, and sponsorship opportunities ranging from $150 to $1,500 are available. For more information, visit fulcrum.nh.com.
The NH Department of Transportation will hold a public officials and public information meeting on July 25 in Derry to seek input on the preferred alternative for the Interstater 93, Exit 4A interchange with an easterly connection to Route 102. In conjunction with the meeting, NHDOT will also be seeking testimony in accordance on the use of design-build procurement to deliver the preferred alternative.
The preferred alternative calls for construction of a new interchange on I-93 in Londonderry between Exits 4 and 5, approximately 0.6 miles north of the Ash Street Extension overpass, and a new roadway connection extending east for approximately 0.75 miles to join North High Street near its intersection with Madden Road in the Town of Derry.
The meeting will begin ate 6:30 p.m. at the West Running Brook Middle School gymnasium, 1 West Running Brook Lane, Derry.
Three grants and a technical assistance loan were recently awarded by the NH Housing Finance Authority to support efforts to develop a range of housing for residents.
Receiving the support were:
• Lakes Region Community Developers, $20,000 technical assistance loan for Harriman Hill Phase 3 in Wolfeboro, a development of 20 single-family houses.
• A $50,000 incubator grant to Vital Communities, a nonprofit in the Upper Valley to fund startup of a housing advocacy program.
• A $30,000 housing partnership grant to Mt. Washington Valley Housing Coalitionin support of solutions-based approaches to housing challenges in Conway, Jackson and Bartlett.
• A $25,000 grant to Bridge House, a homeless shelter in Plymouth, to expand marketing of its used furniture business.
Land surveying and engineering firm Hancock Associateshas acquired Noonan & McDowell, land surveying and civil engineering firm in Billerica, Mass. Noonan & McDowell serves clients in Massachusetts and New Hampshire, was founded in 1986 by John L. Noonan, PLS, PE and Malcolm P. McDowell, PLS, PE. Hancock has seven offices in the Bay State and another in Salem, NH.
Berkshire Hathaway HomeServices Verani Realty agent Steve Whiterecently raised over $1,500 as a participant in the Granite United Way's Live United-Over the Edge fundraiser, which involved rappelling 24 stories down the side of the Brady Sullivan Tower on Elm Street in Manchester. White, among 140 individuals who took part in the June 29 challenge, raised funds for The Caregivers Inc.
Richard Higgerson of Four Seasons Sotheby's International Realty, Hanover, has been named one of America's most productive sales associates as a part of REAL Trends America's Best Real Estate Professionals, a newly issued ranking report produced by REAL Trends and sponsored by Adwerx. To qualify for inclusion, an individual agent must have closed at least 50 transaction sides or $20 million in sales volume in 2017.