People and Property: NH Real Estate and Construction News Rundown
Vermont architect picked for Opera North's Cornish project … and more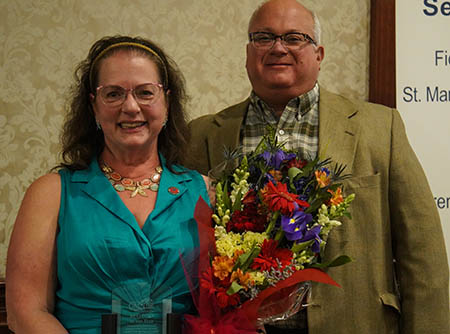 Some 13.31 acres of land on Dover Road, Route 108 and Stone Quarry Drive in Durham was recently acquired by The RiverWoods Group of Exeter for $1.45 million. RiverWoods has received approval for a continuing care retirement community consisting of 150 independent living units, 72 assisted living, memory care and skilled nursing beds. Groundbreaking is expected this summer with a completion date in 2020.
David Choate and Laura Farago of Colliers International's Portsmouth office represented The RiverWoods Group and Dave Garveyof Keller Williams Commercial represented the seller, Rockingham Properties 1 Limited Partnership, in the transaction.
Kelly Pride has joined Berkshire Hathaway HomeServices Verani Realty as its digital marketing specialist. Prior to joining Verani, Pride worked for a design/build firm where she managed the marketing department of three affiliate companies.
May Balsama of Berkshire Hathaway HomeServices Verani Realty's Amherst office, recently received the Good Neighbor Award from the Greater Manchester/Nashua Board of Realtors for her work in the local community.
The New England Healing Sports Association has broken ground on an addition to its lodge at Mount Sunapee Resort in Newbury. Milestone Construction & Engineering, Concord, is the contractor.
Opera North of Lebanon has selected architect R. Andrew Garthwaite of the Norwich, Vt.-based firm Haynes & Garthwaite to undertake the preservation and rehabilitation of the historic Charles C. Beaman House at Blow-Me-Down Farm in Cornish.
Under an agreement reached last summer with the National Park Service, Opera North will stabilize and repair the farmhouse, parts of which date to the late 1700s, and to adapt the building for future use as a base for Opera North's activities.
The first phase of Garthwaite's work will address issues related to the current condition of the building and the preservation of the historic site, including improving drainage, repairing deterioration, and making it more weather resistant. Phase Two of the project will focus on reviewing and updating systems, including electrical, plumbing and roofing, as well as limited interior repairs.
A 10,300-square-foot flex/office building at 93 Ledge Rd., Seabrook, has been acquired by Radiation Safety and Control Services for $1.145 million. Brian O'Brien, vice president and managing broker of NAI Norwood Group's Portsmouth office, represented the seller in the transaction.
Concord-based CATCH Neighborhood Housing has added three new members to its board of directors: Eric Palson, principal at SMP Architects, Concord; Suzi Pegg, Concord's director of economic development; and Nadine Salley of Tilton, director of portfolio initiatives at NH Community Loan Fund.
Asset Preservation Inc. has acquired a 4,800-sqauare-foot office building at 271 Derry Rd.,. Litchfield. The buyer purchased the property as an investment and intends to lease, said Jerry Hersch of the commercial division of Tinkham Realty, who represented the seller, SLC Development LLC of Hudson. Denise Bernardof CP Management Inc. represented Asset Preservation. Sale price was $525,000.
Freedom Energy Logistics, Auburn, has been chosen by the state of New Hampshire to manage its energy services. As part of the contract, Freedom will be responsible for the wholesale purchasing of eight state electricity accounts — Rockingham Superior Courthouse, Brown and Main Buildings, the Emergency Operations Center, the Supreme Court building, Walker Building, the State House annex and the Health and Human Services building.