People and Property: NH Real Estate and Construction News Rundown
McIntosh College property sold, 55-plus community in Pembroke changes hands … and more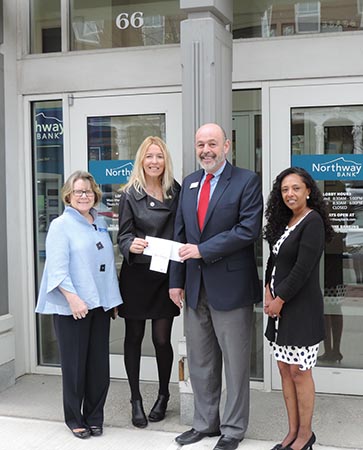 Jewett Construction, Raymond, has completed the 24,000-square-foot historic restoration and three-story addition to the property at 90 Washington St. in Salem, Mass. The renovated facility is a new annex for city of Salem offices. The building was designed by Mark Meche of Winter Street Architects, Salem.
Extensive renovations to Building 177 at the Portsmouth Naval Shipyard were recently completed. The project involved repair of the entire building and renovation of approximately 29,000 square feet and supporting site infrastructure. McHenry Architecture of Portsmouth was architect for the project. Also involved were: Altus Engineering, civil engineering; Summit Engineering, structural engineering; and MSE of Yarmouth, Maine, mechanical engineering. Structural Associates of Rome, N.Y., was general contractor.
Hancock Associates, a Danvers, Mass.-based provider of land surveying, civil engineering and wetland science services, has announced the retirement of Donald I. Desmond from the firm. Desmond has worked for the firm since its founding in 1978, and in 1984 became sole owner and president. The firm has grown to five offices the region, including one in Salem, NH.
Principal planner Tracy Adamski has been promoted to vice president at Tighe & Bond. The firm has an office in Portsmouth, NH.
.
Granite Air Center Inc., Lebanon, recently partnered with Norwich Solar Technologies of White River Junction, Vt., , to install a 218.1-kilowatt photovoltaic system on the main hangar rooftop at the facility – the largest solar array in the city. Granite Air Center is Lebanon Municipal Airport's fixed-base operator.
Some 24,996 square feet of industrial/retail space at 1015 Candia Rd., Manchester, has been sold for $1.185 million to Cote's LLC, a sister company of rigging company Louis P. Cote Inc., which is planning to move from its Goffstown location. Deana Arden of NAI Norwood Group represented the seller in the transaction.
The 14,400-square-foot Exeter Decorating Center building at 164 Epping Rd., Exeter, has been sold for $1.5 million. Buyer in the sale leaseback transaction was Scioto Riverpark LLC of Portsmouth. The deal was part of a
1031 tax deferred exchange. The current tenant, Exeter Decorating, entered into a multi-year lease. David Choate and Laura Farago of Colliers International's Portsmouth office represented the Seller 164 Epping Road LLC.
Choate and Farago also represented the seller, as well as assisted the buyer in the $2.425 million sale of the last piece of the former McIntosh College main campus at 23 Cataract Ave. and 61 Rutland St. in Dover. The 11-acre property consists of a 26,100-square-foot three-story building that is more than 50 percent leased, a former administrative office building, and several undeveloped acres. Seller was Profero Management and Holdings LLC. Buyer was Scioto Riverpark LLC of Portsmouth.
Meetinghouse Commons, a 17-unit 55+ independent living community located off Route 3 in Pembroke, has been sold by The Taylor Community to Church Street Commons LLC, whose principal is investor Ben Gamache. Dan Scanlon of Colliers International's Manchester office represented the seller.
The Coastal Land & Commercial Group, Government Services Division at Keller Williams Coastal Realty, Portsmouth, has named Sarah Hafner as executive assistant.
Bow-based Granite State Solar recently completed a 100,000-watt solar array for the town of Derry. Located at the town's transfer station, the array includes 10 ground-mounted tracking systems that orient their solar panels to the sun at all times of the day.