People and Property: NH Real Estate and Construction News Rundown
NH Preservation Alliance seeks award nominations … and more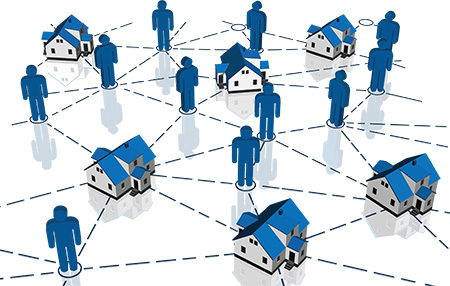 North Branch Construction of Concord recently began the $11.5 million renovation of Cimarron Apartments in Seabrook. Owned by Chartwell Holdings, the complex will be renamed Seabrook Village Apartments. The work includes renovation of six four-story residential buildings totaling 388 units, as well as a stand-alone, 2,400-square-foot community building.
Burnell Johnson Architects of Manchester is providing architectural design. The project is funded through Low Income Housing Tax Credits administered through the NH Housing Finance Authority.
The NH Preservation Alliance is seeking nominations for its annual Preservation Achievement Awards, which recognize individuals, organizations or businesses in the categories of restoration and stewardship, rehabilitation and adaptive use, compatible new construction, public policy and educational and planning initiatives.
Deadline for submissions is March 12. Nomination materials are in the event section of nhpreservation.org or can be secured by emailing project@nhpreservation.org.
The awards will be presented May 8 at the Concord City Auditorium.
Tinkham Realty Inc. recently completed the sale of 1D Commons Drive in Londonderry to RLN Realty LLC of Hudson. The property consist of five office condominiums totaling 7,008 square feet in a free-standing building at the Londonderry Professional Park.
Jerry Hersch of the commercial division of Tinkham represented the seller, Lot 11-c-700 LLC of Londonderry and assisted the buyer. Sale price, according to the Rockingham Registry of Deeds, was $1 million.
The 1,560-square-foot office building at 1100 Hooksett Rd., Hooksett, has been sold by Grant and Swanee Gibby of West Topsham, Vt., to Connecticut Valley Computer Services Inc. of Pittsfield, NH. Mike Reed of Stebbins Commercial Properties Inc. represented the sellers in this transaction and assisted Connecticut Valley Computer Services. According to the Merrimack County Registry of Deeds, sale price was $115,000.
G.M. Roth Design Remodeling Inc. of Nashua has won a "Best Of Design and Customer Service" designation on Houzz, the online platform for home remodeling and design.
Manchester-based Kalwall Corp. has hired Kevin Bruce as Southeast Region sales manager. Bruce, who is based out of Sarasota, Fla., will be responsible for a region that includes South Carolina, North Carolina, Tennessee, Alabama, Mississippi, Louisiana, Georgia, Florida, Puerto Rico and parts of Arkansas and Kentucky.
Kennebunk Savings Bank officials recently opened its newest location in a newly constructed building at 9 Portsmouth Ave., Stratham, NH. Formerly the site of a gas station, the office is the bank's sixth branch in New Hampshire and 19th in its York County, Maine and Seacoast New Hampshire network. Vice President and branch manager Kelly Hutchinson will lead the Stratham team, which includes Ieva Watson assistant branch manager, and small business lender Ryan Pope.
Walsh Engineering Associates Inc. of Westbrook, Maine, and Pinkham and Greer Civil Engineers of Portland, Maine, have announced their merger. The combined company and employees will continue under the Walsh Engineering Associates name at the Westbrook location. Pinkham & Greer Consulting Engineers, a structural engineering firm is a separate business entity and is not included in the merger.