People and Property: NH Real Estate and Construction News Rundown
CRDC honors banking industry standouts … and more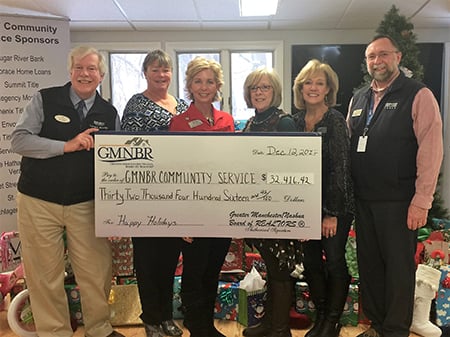 Dennis Mires The Architects has announced completion of a new 5,000-square-foot ConvenientMD Urgent Care Center in Westbrook, Maine. The project was developed by Coffman Realty Inc. Construction manager was Coastal Construction Corp.
Brady Sullivan Properties has donated $50,000 to NeighborWorks Southern New Hampshire in support of the nonprofit organization's Nashua Tree Streets Revitalization Initiative, a multi-year project that involves investment in the housing stock in the Tree Streets neighborhood. The effort will involve a combination of acquisition rehab, rental, sales and lending.
Berkshire Hathaway HomeServices Verani Realty agent Kristyn Nelson has been selected to join Berkshire Hathaway HomeServices' national re_think council, a member-driven think tank in the real estate industry that focused on providing support for current and future real estate agents.
In addition, Verani agents Steve White and Maggie Kerkhoff recently graduated from the NH Association of Realtors' Leadership Academy, a one-year program designed to enhance the skills of members considering volunteer leadership positions within the association.
The Capital Regional Development Council, Concord, presented three awards at its recent annual Banker Celebration, held at the Manchester Country Club.
The council recognized Merrimack County Savings as CRDC's Bank of the Year. The award, said CRDC Executive Director Stephen Heavener, is based on highest dollar volume of lending of loans referred to CRDC in the fiscal year ending Sept. 30.
CRDC also honored James Goodhue, vice president/commercial lending officer at Primary Bank with an award based on the dollar volume produced together by a commercial lender and CRDC.
In addition CRDC presented a Lifetime Achievement Award to Ed Caron, executive vice president and senior commercial lending officer at Merrimack County Savings Bank. "CRDC is greatly appreciative of Ed's dedication and commitment in the banking industry and to us," said Heavener.
Unitil Corp. recently celebrated the removal of the last length of cast iron pipe from its gas system in New Hampshire. The final pipe was cut out of the system near the intersection of Islington and Bartlett streets in Portsmouth. Over the last nine years, Unitil has upgraded 41.24 miles of bare steel and 11.3 miles of cast iron in New Hampshire, replacing the pipes with high density plastic piping, the utility said.
"The completion of this project will assure that our region has the type of modern infrastructure that facilitates economic growth," Unitil media relations manager Alec O'Meara said.
Roedel Companies and RGH Hospitality has promoted Doris Young to revenue analyst, based in the Wilton corporate office. Young had been sales coordinator at Courtyard by Marriott Nashua, owned and operated by Roedel.