People and Property: NH Real Estate and Construction News Rundown
Nashua property sold for $6.6 million … and more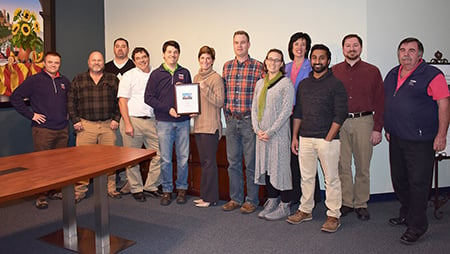 Goss International has chosen Cushman & Wakefield as exclusive leasing agent to market up to 220,000 square feet of vacant office and high-bay manufacturing and warehouse space located at 121 Technology Drive in Durham.
Cushman & Wakefield's Thomas Farrelly, Denis Dancoes and Sue Anne Johnson will lead the leasing effort.
Cobb Hill Construction Inc., Concord, NH, recently completed revitalization of a 7,800-square-foot, three-unit retail building on Loudon Road in Concord.. The project was led by project manager Chuck Lowth and site manager Glen Woodard.
Kreiva Academy Charter School has leased 30,800 square feet at 470 Pine St., Manchester, from Tokena Corp. of Manchester. Tom Dickson, commercial real estate agent with Stebbins Commercial Properties Inc., represented the landlord and assisted the tenant in the transaction.
Granite Staters looking to build strong and sustainable communities are invited to attend UNH Cooperative Extension's four-part Community Training in Ecological Design series, to be held in January and February 2018. The series will especially be relevant those who serve on town boards and commissions, organizers said.
The series will be led by Mary Tebo Davis, Steve Whitman, Lauren Chase-Rowell and Stacey Doll, all of whom have expertise in planning, zoning, landscape and ecological design, natural resources, sustainability, urban forestry, and permaculture.
The sessions will take place:
• Jan. 24, 8:30 a.m.–5:30 p.m., Merrimack County UNH Cooperative Extension Office, 315 Daniel Webster Highway, Boscawen (Snow date is Thursday, Jan. 25.)
• Jan. 31, 8:30 a.m.-5:30 p.m., Merrimack County UNH Cooperative Extension Office, Boscawen (Snow date is Thursday, Feb. 1.)
• Feb. 7, 8:30 a.m.-5:30 p.m., PermaCityLife, 357 Central St., Franklin (Snow date is Thursday, Feb. 8.)
• Feb. 14, 8:30 a.m.-5:30 p.m., PermaCityLife, Franklin (Snow date is Thursday, Feb. 15.)
Cost for the training is $395. For more information, contact Davis at mary.tebo@unh.edu or 603-641-6060.
A Brady Sullivan Properties entity has sold 472 Amherst St. in Nashua to a privately held real estate firm for $6.6 million. Under the deal, Pinnacle Properties has acquired the property – which is made up of two single-story buildings totaling 98,595 square feet on 7.68 acres – from BSP Cotton Road LLC. Pinnacle said it plans to redevelop and upgrade the property to address the increased demand for flex and service retail space.
Tom Farrelly, Sue Ann Johnson and Denis Dancoes of Cushman & Wakefield, working with Charles Panasis, Ben Kelley and James Tobin of Brady Sullivan Properties represented BSP Cotton Road LLC in the transaction.
NBT Bank has announced it will be offering its Home in the City Program in New Hampshire to provide homebuyer and financial literacy education to residents.
The loan program provides 95 percent financing for the purchase of a one- or two-family, owner-occupied residence for borrowers with a household income up to 120 percent of the HUD area median, An interest rate reduction of 0.25% for eligible first-time homebuyers who complete homebuyer education classes and no mortgage insurance or additional monthly payments are required.
Participants also may complete homebuyer education classes offered through HOMEteam, a program of CATCH Neighborhood Housing, NeighborWorks Southern New Hampshire and Laconia Area Community Land Trust.
Paul Bradley, founder and president of New Hampshire-based ROC USA is one of four people who will be inducted next May in the Cooperative Hall of Fame. They will be recognized at the annual Cooperative Hall of Fame dinner and induction ceremony, May 2 at the National Press Club in Washington, D.C. ROC USA is a national network of nonprofits and national sources of capital that allow residents to acquire mobile home parks in a limited-equity co-operative.
North Branch Construction of Concord has begun construction of the new Portsmouth Liquor Store. The new store, be located at the Portsmouth Traffic Circle, will be 23,000 square feet, nearly double the size of the existing store.
Architectural design is by Oak Point Associates, Portsmouth.