People and Property: NH Real Estate and Construction News Rundown
CLD Engineers acquired by Conn. firm, Hoefle joins Two International Group … and more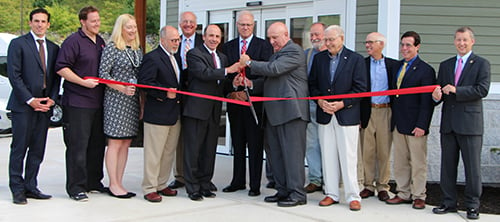 Opera North has received a $150,000 grant from the Northern Border Regional Commission to renovate the main house on Blow-Me-Down Farm, across from the Saint-Gaudens National Historic Site in Concord. The organization, which has been working in partnership with the National Park Service to establish a visual and performing arts space at the farm, will use the grant to stabilize and restore the house.
Andrew Garthwaite of Haynes & Garthwaite Architects of Norwich, Vt., is developing the restoration plan.
Colonial Pharmacy, New London's 50-year-old pharmacy and variety store is moving from its current location in the New London Shopping Center and building its own facility a quarter-mile away on Newport Road. The new location is expected to open in the fall.
Renewvia Energy recently finished work on the largest rooftop solar array in New Hampshire at Worthen Industries' Nashua facility. The array includes 2,710 solar panels and spans 90,000 square feet of roof at one of their manufacturing facilities in Nashua. The array will generate approximately 50 percent of the energy the business needs to operate, Renewvia said.
Brookstone Builders Inc., Manchester, has been selected to perform an interior renovation project for Bristol-Myers
Squibb on its campus in Devens, Mass. The scope of work includes interior demolition, fixture upgrades and replacement, plumbing re-work, re-tiling, and finish work. Jay Gemmiti will serve as Brookstone Builders' Project Manager.
Kenneth D. Boivin of Concord has been promoted to principal and senior vice president at GZA's Bedford office. Boivin's areas of specialization include environmental regulatory permitting, compliance management and auditing.
Eve M. Hoefle has joined Two International Group, Portsmouth, to direct the firm's acquisitions and asset management efforts, setting the stage for further growth of the 20-year-old firm, said Renee Plummer, vice president and director of marketing. Hoefle most recently was senior vice president of Boston Private, and before that was chief financial officer and chief operating officer of Brookwood Financial Partners, a private equity firm with a specialty in commercial real estate.
ReVision Energy has installed a 68.4-kilowatt solar array on the roof of Colby-Sawyer College's new Center for Art + Design in New London. The 15,000-square-foot building, opening this fall, is home to studios, a black box theater and a fine art gallery. The array is expected to produce approximately 80,020 kilowatt-hours of electricity per year.
Congresswoman Carol Shea-Porter has announced that the Federal Aviation Administration has awarded $3.5 million to Manchester-Boston Regional Airport for airfield improvements. The funding will help pay for work that includes reconstruction of approximately 1,200 feet of existing taxiway pavement.
Work is nearing completion on Red Oak Apartment Homes' Ridge at Eastern Trails, a 124-unit apartment complex in Milford. Phase I includes two buildings with 72 apartments, many of which will be available starting Aug. 15, the company aid.
The project, which is being managed by Eckman Construction, will include 128,000 square feet of total construction and will include 108 apartment units and 16 two- and three-bedroom townhouses. Project architect is Dennis Mires The Architects of Manchester and civil engineer is Keach-Nordstrom Associates of Bedford.
Manchester, Conn.-based Fuss & O'Neill Inc. has announced the acquisition of Manchester, NH-based CLD Consulting Engineers Inc., giving the firm offices in all six New England states. Terms of the deal were not disclosed.
Besides Connecticut, Fuss & O'Neill has offices in Rhode Island, Massachusetts and South Carolina. CLD has additional offices in Vermont and Maine. The deal, which closed Friday, brings together 350 engineers, scientists and planners in 11 offices in Fuss & O'Neill's geographic footprint.
North Branch Construction of Concord has completed construction of the Mascoma Community Health Center in Canaan. The new single-story, 13,280-square-foot facility contains exam rooms, offices, a pharmacy, phlebotomy lab and nurse triage. Stratton Brook Associates of West Simsbury, Conn., designed the project.
The sale of 1.96 acres at 275 Route 1 in Kittery, Maine, the former home of Maine's original outlet center, has been announced by Greg Whalen of NAI Norwood Group, who represented the seller, KTP Shops LLC, in the transaction. Sale price was $1.96 million. The site will be the new home of a Hampton Inn and Suites.