People and Property: NH Real Estate and Construction News Rundown
CRDC aids Bunny's financing … and more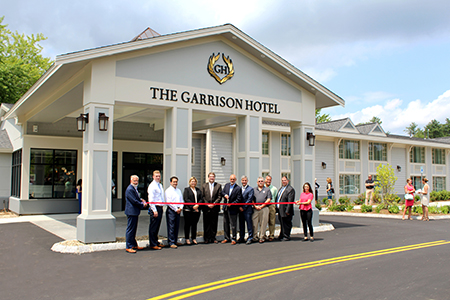 David W. Roedel, business development officer for Wilton-based Roedel Companies has been named to a three-year term on Hilton Worldwide's inaugural Curio Owner Advisory Council. The council is aimed at giving a voice to the broader owner population.
Concord-based Capital Regional Development Council recently assisted in the financing of the opening of Bunny's Convenience in downtown Manchester, owned by Pramod Nyaupane and his wife Bibhuti Thapa, who also own Bunny's Superette in Manchester's North End.
The new 5,000-square-foot location, at the corner of Elm Street and Amherst Street underwent renovation before the grand opening.
CRDC and Primary Bank worked together to finance the property. The loan was financed under the SBA 504 Loan Program and was combined with funding through CRDC's Direct Loan Program.
Coldwell Banker Residential Brokerage in New England ahs named Chip Stella of Andover, Mass., branch manager of the company's office in Bedford.
Kara L. Forsythe of RPF Environmental Inc. has completed all requirements for a Board of Certified Safety Professionals certification, which is awarded to individuals who meet eligibility and experience criteria in the safety, health, and environmental discipline and have passed a rigorous examination.
Andy Smith, broker/owner and Chrissy Smith, vice president of sales and marketing, of Peabody & Smith Realty recently attended the Leading Real Estate Companies of the World broker forum in Boston. The one-day meetings give leaders of member brokerages the opportunity to join network colleagues for discussions on the current real estate landscape, upcoming market trends and ways to utilize the services available to them through LeadingRE, a community of 565 firms around the world.