People and Property: NH Real Estate and Construction News Rundown
Allenstown apartment building sold for $1.4 million, Claremont self-storage facility changes hands for $2.2 million … and more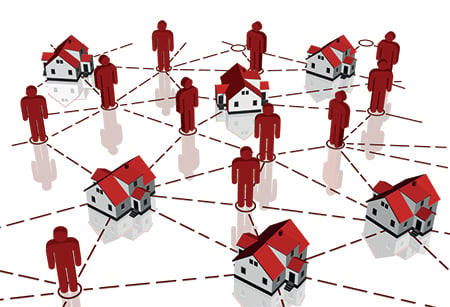 CATCH Neighborhood Housing has added two new members to its board of directors: Nancy Egner of Hillsborough, the executive director of Fellowship Housing, a Concord-based nonprofit that provides safe and affordable housing for the chronically mentally ill; and James M. Gallagher III of Windham, senior vice president/commercial loan officer at Merrimack County Savings Bank.
Brady Sullivan Properties recently presented NeighborWorks Southern New Hampshire with a $5,000 contribution in support of the organization's 25th anniversary year of community events. The gift was presented by Arthur Sullivan and Holly Ackerson of Brady Sullivan Properties to Robert Tourigny, executive director of NeighborWorks.
Position Imaging, a provider of technology to the logistics industry, has leased 8,450 square feet of lab and office space at 2 Marin Way in Stratham. Position Imaging's corporate offices are located at 155 Fleet St. in Portsmouth. Christian Stallkamp, Senior Broker at CBRE|Portsmouth, was the listing broker and represented the landlord in this transaction
North Branch Construction of Concord has broken ground for construction of a new 40,000-square-foot, two-story indoor shooting and self-defense complex for Freedom Alley Shooting Sports in Tyngsborough, Mass.
The facility will feature four indoor shooting ranges with 26 shooting lanes, a Krav-Maga self-defense studio, fitness gymnasium, café, executive offices and a lounge overlooking over 10,000 square feet of retail and manufacturing space.
Construction is expected to be completed early next year. Architect is Port One Architects, Portsmouth.
Olaf Zwickau, president of Auburn-based Air Solutions & Balancing, has been invited to present at the Northeast Buildings & Facilities Management Show 2017, to be held June 14-15 in Boston. The firm offers energy-saving technology related to demand control kitchen ventilation and air balancing.
Riverbridge Apartments, a 41-unit apartment building in Allenstown, has been purchased by Cousin's Properties LLC for $1.4 million.
Al Croteau, a principal of Cousin's, said that renovations have begun, with plans to upgrade all units and install a new heating system, and upgrade the brick façade and parking areas.
Donald Eaton and Dan Scanlon of Colliers International's Manchester office, represented the seller, Riverbridge Apartments, and assisted Cousin's.
Lebanon-based Mascoma Community Development is providing $5 million in New Markets Tax Credit financing to support the $25.7 million National Comedy Center project in Jamestown, N.Y. The center, located in the hometown of comedy legend Lucille Ball, is designed to be an interactive and experiential national attraction and cultural institution which will celebrate the art of comedy.
MCD is a community development entity established by Mascoma Savings Bank to stimulate economic opportunities for low-income residents throughout the northeast United States, especially with investment in catalytic downtown redevelopment or business expansion projects.
Two new members have been named to the Manchester Development Corp. board of directors: attorney Suzanne Brunelle of Devine Millimet & Branch, Mike Reed of Stebbins Commercial Properties Inc.
At its annual meeting for 2017-18, David Eaton of Colliers International was elected chair of the board, Don St. Germain of St. Mary's Bank was elected vice chairman, Lori Chandonnais of Citizens Bank was elected treasurer, and Dan Muller of Cronin, Bisson, Zalinsky P.C. was elected secretary.
NAI Norwood Group has announced the sale of 91 Main St. in Claremont, the site of Twin State Leasing and Storage, for $2.2 million. Joseph Mendola, senior advisor from NAI Norwood Group, represented the seller and assisted the buyer in the transaction.
Twin State Leasing and Storage is a converted five-story, 112,000-square-foot mill building in Claremont.