People and Property: NH Real Estate and Construction News Rundown
Expansion at Tanger Outlets, work begins on new hotel in Lebanon … and more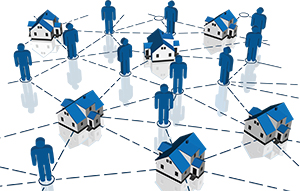 New York-based Seritage Growth Properties, a real estate investment trust that owns 42 million square feet of retail properties, has entered into a lease with Cinemark Holdings to open a 12-screen, recliner theater at The Mall at Rockingham Park in Salem – the first Cinemark theater in New Hampshire. Adjacent to the theater will be several restaurants.
Work has begun on the transformation of the historic Frank Jones Warehouse in Portsmouth. Developer is Aland Realty and architect is CJ Architects.
The project will be named "The Granary" and include six residential condominiums and up to five street-level commercial units for lease.
The $44 million student life center at the State University of New York at Cortland is one of the two main winners of the American School and University Magazine's Educational Interiors Showcase awards. The SUNY Cortland project was awarded AS&U's prestigious College Citation by a panel of three judges. Designed led by Hastings + Chivetta Architects of St. Louis, Mo., the facility includes
skylights featuring Manchester, NH-based Kalwall's translucent sandwich panels,
Tanger Factory Outlet Centers Inc. has begun an expansion project at the Tanger Outlets in Tilton that will add approximately 6,000 square feet to the center and house expanded dining options, including a Five Guys Burgers & Fries and a larger Starbucks Coffee that will include a drive-thru.
Construction is expected to be completed in the first half of 2017, with Five Guys Burgers & Fries opening in the spring and Starbucks Coffee opening in the summer.
Construction crews recently began work on a new Hilton Garden Inn Hotel and Conference Center at 35 LaLombard St. in Lebanon. Manchester-based Procon is the designer and builder, and XSS Hotels of Manchester is the developer.
Plans call for a four-story, 100-key hotel featuring double queen and king guest rooms.
The design includes an 8,600-square-foot flexible-space conference center with a 300-person capacity.
Cornerstone PDC of Manchester has completed office renovations for Globe Manufacturing's headquarters in Pittsfield. Cornerstone completed the 6,000-square-foot renovation project during Globe's two-week manufacturing shutdown, including a complete remodel of the lobby and showcase areas. Stibler Associates of Manchester provided interior design services.
NeighborWorks Southern New Hampshire has received a $30,000 contribution from the Bank of America Charitable Foundation in support of home ownership and financial literacy educational and coaching services offered through HOMEteam, a collaborative program comprised of NeighborWorks Southern New Hampshire, CATCH Neighborhood Housing, and Laconia Area Community Land Trust.
Concord Housing + Redevelopment has made a $6,000 donation to the Concord Family YMCA to support swim and water safety programs for low-income children who are not Y members.
Meredith Village Savings Bank has purchased $27,500 in tax credits from Laconia Area Community Land Trust through the NH Community Development Finance Authority's tax credit program. CDFA tax credits allow businesses to fund qualifying economic or community development projects in exchange for a tax credit that can be applied against state business tax payments. For more information about the CDFA, visit nhcdfa.org.
Denis Querrard of EXIT Realty in Lancaster recently joined real estate professionals from across North America at the EXIT Realty International Convention in the Bahamas. The convention is an annual event that brings top real estate professionals together to interact and learn from each other and promote discussions about issues and trends in the real estate market.