People and Property: NH Real Estate and Construction News Rundown
Eckman completes Mascoma Valley High School addition, Global Plastics moves from NYC to Manchester … and more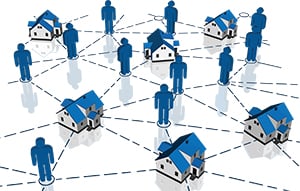 Eckman Construction of Bedford recently completed extensive renovations and a large addition at Mascoma Valley Regional High School in Canaan. The addition features a 500-seat auditorium and performing arts theater, band room, new media center and a new art room. Renovations to the original building, which opened in 1963, included a new, handicap-accessible main entrance, classrooms, a new main office and administrative area, and energy-efficient upgrades throughout the facility.
Marinace Architects of New Hampton designed the project.
Global Plastics LP recently purchased the building at 99 Middle St. in downtown Manchester to relocate its New York City headquarters to the Queen City.
Harrington & Reeves and Norton Asset Management teamed up on the sale of the 14,000-square-foot brick building. Bill Norton of Norton Asset Management facilitated the sale and Mike Harrington of Harrington & Reeves represented the seller. The building was purchased for $875,000.
Harrington & Reeves and Norton Asset Management, meanwhile, added a new associate to their team – Chris Melanson, who previously worked for the family-owned Melanson Real Estate Inc. located in Wolfeboro.
Lawrence General Hospital and MorrisSwitzer Environments for Health (E4H) recently celebrated the official opening of the hospital's expanded and renovated surgical space with a building dedication ceremony. The $56 million, Santagati Center consists of a new 46,000-square-foot surgical building and 15,000-square-foot renovation to the existing day surgery and pre-admission testing departments.
The Greater Manchester/Nashua Board of Realtors will hold a continental breakfast and press conference focusing on the opioid epidemic and its effect on communities later this month. The event, sponsored by Federal Savings Bank, will be held from 10 a.m. to noon, Wednesday, Oct. 26, at the Merrimack Public Library.
Speakers will include recovery advocate Kriss Blevens, founder of Amber's Place Crisis Recovery Respite, Christopher Dowling of the Merrimack Police Department and Dick Anagnost, president of Anagnost Investments and developer of the Manchester Community Recovery Center.
The event is free to attend. To register, visit gmnbr.org.