People and Property: NH Real Estate and Construction News Rundown
Structure Tone opens Salem office, Seacoast Realtors to host Senate forum … and more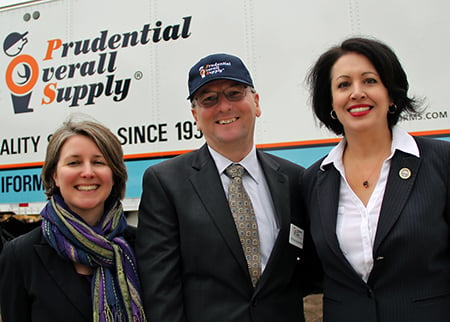 Manchester-based Metro Walls and is sister company, Exterior Designs, have donated $20,000 to the NH Food Bank. A team of eight volunteers from Metro Walls and Exterior Designs, which are both owned by Mike Dion, helped load a distribution truck with food.
The Seacoast Board of Realtors will host a U.S. Senate Forum breakfast meeting on Monday, Oct. 24, at the Atlantic Grille in Rye. Both incumbent Republican U.S. Sen. Kelly Ayotte and her Democratic challenger, Gov. Maggie Hassan, have agreed to attend. Freelance journalist Roger Wood will moderate.
Under the forum format, the candidates will not share the stage. Instead, each will have 25 minutes to answer questions submitted through Wood. The breakfast meeting begins at 8 a.m. with the forum starting at 8:45. Tickets are $15 and can be obtained by contacting Barbara Lemieux at Barbara@Seacoastboard.com or 603-433-9990.
The Greater Manchester/Nashua Board of Realtors will hold a continental breakfast and press conference focusing on the opioid epidemic and its effect on communities later this month. The event, sponsored by Federal Savings Bank, will be held from 10 a.m. to noon, Wednesday, Oct. 26, at the Merrimack Public Library.
Speakers will include recovery advocate Kriss Blevens, founder of Amber's Place Crisis Recovery Respite, Christopher Dowling of the Merrimack Police Department and Dick Anagnost, president of Anagnost Investments and developer of the Manchester Community Recovery Center.
The event is free to attend. To register, visit gmnbr.org.
The Kalwall Corporation, Manchester, has expanded its New England sales force with the addition of Joseph M. Russell as sales representative. Russell will be responsible for Kalwall sales in Maine, New Hampshire, Vermont and the Worcester County in Massachusetts. Russell was most recently a sales representative with Purdue Pharma of Stamford, Conn.
Decorative Interiors, Laconia, has hired Amy Kirk as office manager. She has spent the last 10 years as a project manager in the home remodeling industry.
The property at 225 East Industrial Park Drive in Manchester, a two-acre lot at the corner of East Industrial Park Drive and Pepsi Road that includes a 14,800-square-foot building, has been sold for $932,000 to EIPD 225 LLC. Jackman Commercial Realty Inc., Manchester, handled the transaction with assistance from Colliers International.
Environmental engineer Ian Gaudreau has been added to the staff of Terracon's Manchester office.
Veteran New Hampshire construction industry executive Thomas Roy has been picked to run international construction management firm Structure Tone's Salem office. Roy previously worked for BMR Contracting Inc. of Needham, Mass., and before that was CEO of Kelly Construction of Manchester, NH.