People and Property: NH Real Estate and Construction News Rundown
Hvizda moves to Keller Williams Realty Andover, Brookstone wins shipyard job … and more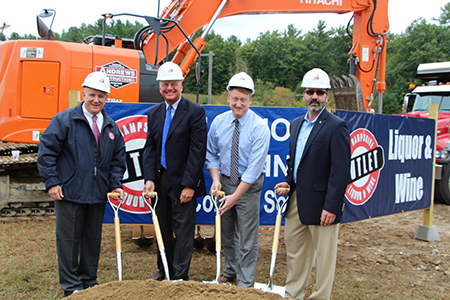 Wason Associates Hospitality Real Estate Brokerage Group, Portsmouth, has announced the sale of two New Hampshire hospitality properties – The Days Inn Concord and The Days Inn Tamworth.
The 49-room Days Inn Concord, located at 406 S. Main St. in Concord, was purchased by the Capital Hotel Company VI LLC from Toral LLC. Financing was provided by Northway Bank.
Formerly the White Lake Inn & Tavern, the Days Inn Tamworth was sold to Mike Patel and his wife Bhumi. Financing was provided by Union Bank.
Molly Sanborn of Concord has been named director of development and marketing at CATCH Neighborhood Housing, Concord. She most recently served as online media and communications coordinator at Easter Seals New Hampshire.
Keller Williams Realty Andover of Andover, Mass., has hired Michael Hvizda of Concord, NH, as team leader. Hvizda previously was co-owner of The Hvizda Team at Keller Williams Metropolitan, Bedford. 'We will greatly miss Mike's wisdom, character, and leadership in our New Hampshire offices. On the same token, we are very happy for our friends and colleagues at Keller Williams in Andover,' said Mark Mulcahy, operating principal of Keller Williams Realty Metropolitan.
Brookstone Builders Inc., Manchester, has been selected to perform an interior and exterior renovation project at the Portsmouth Naval Shipyard. This design/build initiative will involve exterior renovations to B99, an historic building at the shipyard. The scope-of-work includes a total slate roof replacement with copper trim and downspouts, historic brick repairs and retooling, window maintenance and painting. The project will also include the construction of a new boiler room along with the installation of a new furnace and a natural gas feed.
Mark Gemmiti will serve as Brookstone Builders' project manager, and Brookstone Builders will be the construction/design manager on the project, with CCI Energy & Construction Services LLC of Augusta, Maine, serving as primary contractor. Gale Associates of Weymouth, Mass., is the project's designer of record.
Highland Hardwoods of Brentwood is celebrating its 30th anniversary this month. founded in 1986 by Rick and Wendy Lang of Kingston, the company serves woodworking shops, millwork houses, cabinet shops, builder/contractors and the custom woodworking trade. The company serves over 400 customers in New England.
Pam Hall, CEO and chair of the Bedford-based engineering firm of Normandeau Associates will be among the three business leaders to be recognized in October with Lifetime Achievement Awards from the Business and Industry Association of NH.
Hall will be honored along with the former president of White Mountains Attractions Association, Dick Hamilton, and Rath Young Pignatelli Chairman Tom Rath.
The Lifetime Achievement Award recognizes business leaders who have demonstrated a commitment to leadership in their professions, communities and New Hampshire.
The awards will be presented at the BIA's 103rd Annual Dinner, to be held from 4:30 to 8:30 p.m., Wednesday, Oct. 19, at the Radisson Hotel, Manchester. For more information, call 603-224-5388, ext. 101.
Portsmouth-based DeStefano Architects won five awards at the 2016 Cornerstone Awards presented by the NH Home Builders Association.
The firm was honored for residential design work in the Interior Design, Kitchen Remodeling and Residential Remodeling categories.
Mark Stebbins, CEO and chairman of Procon and managing partner of XSS Hotels, will be the featured speaker at the University of New Hampshire's next CEO Forum on Thursday, Oct. 6. This event is free to members and $49 for first-time attendees. To register, contact Barbara Draper at 603-862-1107, or cfb.ceo@unh.edu.
Sturm, Ruger & Co. Inc. recently completed an energy-efficiency upgrade at Pine Tree Castings, the firm's investment casting facility in Newport. Ruger installed new equipment featuring modern controls and a more efficient fan.
The upgrade was funded in part by a nearly $22,000 incentive paid by Eversource's Commercial and Industrial Retrofit energy-efficiency program, which helps companies improve the efficiency of their facilities through services including installation of variable frequency drives, replacement of motors, air compressors and lighting upgrades.
Mark Carrier Construction Inc. of Manchester recently completed the Grand at Bedford Village Inn, a 50-room luxury boutique hotel in Bedford that includes rooms for business meetings, weddings and social events, fitness room, library, custom lobby bar, salt water pool, spa and outdoor amenities.
The reconstruction of the Main Street Bridge in downtown Laconia has earned Dubois & King Inc. an Engineering Excellence Award from the American Consulting Engineers Council. Bob Durfee of the Laconia office of Dubois & King oversaw the $3.1 million project.