People and Property: NH Real Estate and Construction News Roundup
September residential inventories climb on Seacoast … and more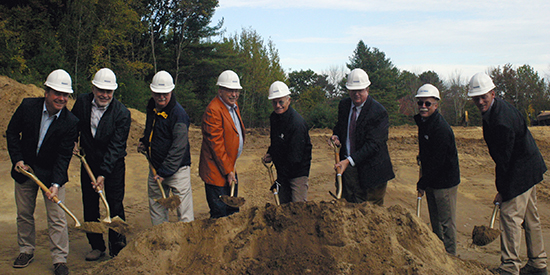 The White Oak Motel and Lakefront Cottages located on White Oak Pond in Holderness has been sold by John and Carol McHugh after 42 years of ownership. The facility includes an eight-unit motel, 17 housekeeping cottages, a three-bedroom owner's residence, a swimming pool and 347 feet of shorefront. Steve Baker of Roche Realty Group in Meredith handled the transaction.
Raymond-based Jewett Construction has added John Pina of Epping to its staff as a senior superintendent. He has over 25 years of experience in the field.
The NH Fine Properties real estate team has joined Coldwell Banker Residential Brokerage in Center Harbor. The NHFP Team was initially formed in 2017 by Lisa Hurley of New Hampton and Trish Conley of Moultonborough. Recently, Andrea Bonner of Wolfeboro has joined the team.
603 Birch Realty recently celebrated its official opening at 15 Chester St. in Chester with a ribbon-cutting ceremony and open house. The ceremony was led by the Greater Derry Londonderry Chamber of Commerce, of which 603 Birch Realty is a member.
With the financial support of Procon owners Mark and Sally Stebbins, the Boys & Girls Club of Manchester recently cut the ribbon on its newly refurbished Camp Foster in Bedford. The ceremony also included a ribbon-cutting for the newly named Stebbins Family Hall. Improvements at the camp feature a new pool house, amphitheater, basketball courts, a softball field and a beach volleyball court.
Trikord, the Nigerian distributor of Manchester-based Kalwall's translucent sandwich panels and natural light products, received the 2019 Excellence in Sustaining Urban Development award at the recent ArchiBuilt Exposition. Trikord was named the official Kalwall distributor for Africa in 2018. Trikord also works with Kalwall strategic partner Structures Unlimited Inc. of Bow.
September inventory levels of single-family homes and condominiums reached an annual high as sales volume moderated in the 13 sample Seacoast communities reviewed monthly by the Seacoast Board of Realtors. Inventory levels were the highest since last September. Single-family sales were up 22% from last September year but off 25% from August. The monthly median sale price of $489,950 represents a 9.6% increase from last year, although a drop of $15,050 from August. Total annual volume for the first nine months of the year is up 7.1% and median prices are up a modest 2.1% at $475,000. The condominium market remained basically flat.
Bedford-based TFMoran has donated $5,000 to NeighborWorks Southern New Hampshire in support of West Side RENEW, an initiative to redevelop and preserve properties in significant decline or in need of capital improvements on Manchester's West Side. TFMoran's contribution will support the redevelopment of 459 Granite St. to create four new affordable rental apartments in a currently uninhabitable building.