People and Property: NH Real Estate and Construction News Roundup
Gaudet named Seacoast Realtor of Year … and more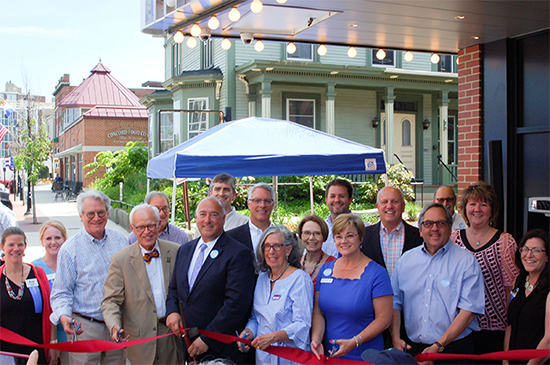 Adam Gaudet, broker/founder of 603 Birch Realty in Chester, has been named 2019 Realtor of the Year by the Seacoast Board of Realtors. Gaudet, a Realtor since 2014, serves on the board of directors and is president-elect of the Seacoast Board and is on the board of the New Hampshire Association of Realtors. In addition, Kristina Young of Blue Water Mortgage, Hampton, has been recognized as the Seacoast Board's 2019 Affiliate of the Year.
James Prieto, director of real estate at Granite Commercial Real Estate, Nashua, has been appointed as the New Hampshire government relations chair of the International Council of Shopping Centers. In this role, will advocate on issues critical to the retail and shopping center industry at the national, state and local levels.
In partnership with the New Hampshire Charitable Foundation, Plan NH awarded a total of over $20,000 in scholarships to: Tim Allen, Chocorua, studying for a master's in architecture at Roger Williams University in Rhode Island; Maddie DiIonno, Concord, studying Community and Environmental Planning at the University of New Hampshire; Jordan Peck, Concord, studying architecture at Roger Williams; Megan Pelissier, Jaffrey, studying architecture at Norwich University in Vermont; Hannah Perry, Derry, studying architecture at Wentworth Institute of Technology in Massachusetts; Sheldon Rogers, New Durham, studying Architecture at Norwich;  Logan Stevens, Concord, studying civil engineering at UNH;   and Katiemae White, Farmington, studying for a master's in resilient and sustainable communities at Prescott College in Arizona.
The Boston-Manchester Market of the March of Dimes has named Dylan Cruess, chief operating officer and a principal at the land planning firm TFMoran, to its board of directors. He also serves on the boards of the Greater Manchester Chamber of Commerce and the New Hampshire Business Committee for the Arts.
Also at TFMoran, Phillip Houston has joined the firm as a civil project engineer in the Bedford office. Houston has six years of experience, including design of residential and commercial subdivisions, utility and drainage plans, permitting, septic design and stormwater management.