People and Property: NH Real Estate and Construction News Roundup
Nashua City Planning Board reviews proposal for Tavern restaurant, The Gas Light Co. reopens ... and more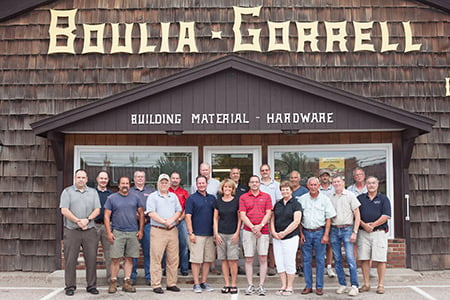 Matt Manning, director of the Affordable Housing, Education & Development (AHEAD) AHEAD Homeownership Center, was chosen as one of 50 leaders selected by NeighborWorks for their Achieving Excellence Program, conducted at the John F. Kennedy School of Government at Harvard University. The program, made possible in part by the JPMorgan Chase Foundation, is an 18-month program that equips executives with the skills to advance their organizations' performance. Each participant identifies and clearly defines a specific challenge critical to their organization's success then spends the program addressing that challenge.
The ABC NH Workers' Compensation Trust announced at its annual meeting, on June 29, that Fund Year 2015 was one of the most successful in the group's 21-year history. Tim Barton, president of the Board of Trustees, announced the distribution of nearly $1 million in dividends to the members.
Walmart closed on the sale of its former Manchester store to Carmax Auto Superstores for $11 million, last week.
On Thursday, the Nashua City Planning Board will review a proposal for a conditional use permit from the John J. Flatley Co. to construct Tavern in the Square, a 7,500-square-foot 500-seat restaurant at its Technology Park, now known as Gateway Hills. The project will also need approval from the conservation commission and zoning board.
Sandra L. (Breton) Edgerly, a permitted septic system designer at Ambit Engineering, Inc. of Portsmouth, recently graduated from Granite State College, earning her Bachelor of Science degree in Business Management with the designation of Magna Cum Laude. Edgerly has over 19 years of experience in the civil and site design field.
Brad Atwood has joined CrossCountry Mortgage, Inc.'s new retail branch located at 50 Bridge Street in Manchester. Atwood joins CrossCountry Mortgage, Inc. with more than 18 years of lending experience at national and regional lenders.
In Windham, the developer of Village Center Place will be in front of the planning board next week for a final public hearing on a 16,600-square-foot mixed-use project that will include a new branch for Enterprise Bank.
Concord Commercial Real Estate has sold a multi-tenanted office building at 6 Garvins Falls Road in Concord. Brenda Litchfield represented the seller Gary Coffin in the sale and worked with Jim Destefano of Colliers International who represented the buyer. According to the registry of deeds, the property sold for $625,000.
The Gas Light Co. in Portsmouth reopens today after being closed eight months due to a Dec. 9 fire. In March, the Board of Adjustment granted the owner, Paul Sorli, variances to create two guest rooms in spaces previously used for short-term hot tub rentals. The fire revealed the illegal residences, which Sorli said were used for J-1 foreign exchange students.​
After owning Boulia-Gorrell Lumber Company in Laconia for four generations, the Veazey family will be handing over the reins to another family-owned lumber company, Benson Lumber & Hardware. Benson has been in business for 103 years and has also been family-owned for four generations. The name and long-term staff will remain the same. Benson has two other locations in Derry and Londonderry.
Brookstone Builders, Inc., construction managers and general contractors headquartered in Manchester, has been selected to perform a renovation and systems upgrade project by the US Navy. The project will involve interior renovations and HVAC-system updating in the officer's club building at the Portsmouth Naval Shipyard. The scope-of-work will include new ceilings and walls, electrical and architectural upgrades, interior finish work, and the installation of a dormer on the building's slate roof to accommodate the new HVAC unit. Erik Crisman will serve as Brookstone Builders' Project Manager, and Brookstone Builders will be the sub-contractor on this project, with CCI Solutions LLC of Augusta, Maine serving as the primary contractor.
Merion Realty Partners of Wynnewood, Pa. has purchased Countryside Village, a multi-family property located at 60 Village Circle Way in Manchester, with financing from Berkadia, a joint venture of Berkshire Hathaway and Leucadia National Corporation. The Manchester submarket boasts an average vacancy rate of 2.6 percent, while also achieving 3 percent rent growth over the past 12 months, reports Berkadia. Berkadia Managing Director Jeff Heath of the Philadelphia office originated the $37.5 million loan through Fannie Mae on behalf of the borrower, Merion Realty Partners. Merion is an owner and operator of multi-family assets and invests on behalf of high-net-worth and institutional investors. Since 2011, Merion has acquired 31 multi-family assets totaling 8,758 units across 10 states.
ABC and AIA will hold their annual Seacoast Harbor Cruise & Networking Reception on Thursday, Aug. 11 at 6 p.m. The Isle of Shoals Steamship Co.'s boat will depart at 7 p.m. with live music aboard and return to dock at 9 p.m. More information can be found here.
The deadline to be an exhibitor and listed in the career booklet for NH Construction Career Days is August 15. Nearly 1,500 students from across the state will be attending t he event. Those interested can sign up here.
The 2016 Excellence in Construction Awards will be held on Thursday, Oct. 27 at the Manchester Country Club. Sponsorship opportunities are available. More information can be found here.