People and Property: NH Real Estate and Construction News Roundup
CATCH begins 30th anniversary celebration … and more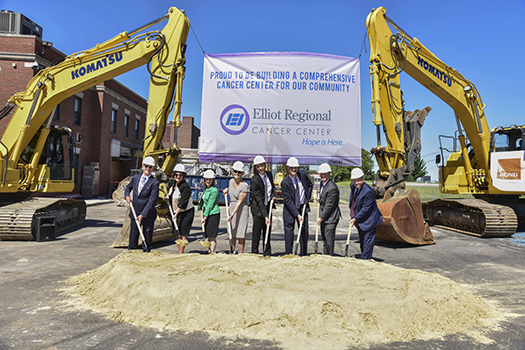 Amanda Savage of Concord, business development manager at North Branch Construction, Concord, has been appointed to Plan NH board of directors, whose it is to foster excellence in planning, design and development of the built environment.
St. Mary's Bank, Manchester, was recently recognized as a top 10 lender by New Hampshire Housing Finance Authority for the eighth consecutive year. The credit union's Mortgage Center at St. Mary's Bank participates in the New Hampshire Housing Home Flex and Home Flex Plus programs, first-time homebuyer programs that provide low- and moderate-income people with affordable mortgage financing and help with down payment and closing costs.
Staff, volunteers and supporters of CATCH Neighborhood Housing took part June 5 in a ceremonial ribbon-cutting, to kick off the nonprofits' 30th anniversary year and mark NeighborWorks Week 2019. "We are so pleased to be celebrating the kickoff of our 30th year with so many wonderful volunteers, board members, and community leaders here today," said CATCH President Rosemary M. Heard. "It's hard to believe CATCH has been around since 1989, and while we've made significant strides in creating housing for those in our community not being served, with your support, we will continue striving toward our vision of communities where every person is confident of a home."
The U.S. General Services Administration New England Region will host a two-part Design & Construction Industry Day for the new U.S. land port of entry in Madawaska, Maine U.S. Customs and Border Protection. The event will be held from 10 a.m. to 2 p.m. Thursday, June 20, at the Hilton Garden Inn, 250 Haskell Road Bangor, Maine.
Businesses, including architect engineering firms, general contractors, subcontractor trades and material suppliers, are invited to attend. For more information, click here.
The new 20,000-square-foot Tri-City NH Liquor & Wine Outlet in Somersworth opened on Tuesday in the revitalized building of the former Dover-Rochester-Somersworth Street Railway Trolley car repair shop. The commission said it will be the first energy-neutral location in its history.
The New Hampshire Department of Transportation is conducting a survey seeking input on the state's public transportation system, which includes 11 public transit providers as well as intercity bus service provided by private companies. The agency said it wants to assess the system in order to develop a plan to improve the delivery of services. The public is invited to take a short survey so that the recommendations in the study accurately reflect the priorities of the people of New Hampshire, NHDOT said. NH Residents are encouraged to complete the survey by July 15, to be entered into a drawing to receive one of four $50 Visa gift cards. Residents can also complete the survey anonymously.
The Southwest Region Planning Commission will host an open house to discuss a study that will assess the feasibility of a regional intermodal transportation center in the region. The event is scheduled from 5 to 6:30 p.m. Tuesday, June 25 in the Historic Cheshire County Courthouse, 12 Court St., Keene. For information, visit swrpc.org/ITC or contact Todd Horner at thorner@swrpc.org.
A subsidiary of Ohio coatings and sealant manufacturer RPM International has acquired Schul International Co., a Hudson, NH-based manufacturer of foam tapes. RPM's Tremco Commercial Sealants & Waterproofing unit also announced the purchase of joint sealant maker Schul International Co. of Hudson as well as Schul's products marketing and sales company, Willseal LLC. Terms were not disclosed. RPM, which owns the Rust-Oleum and DAP product lines, said Schul and Willseal — which markets Schul products under the WillSeal and Sealtite brand names — will be integrated under Tremco's commercial sealants and waterproofing business. Both segments' current executives will continue in those roles. RPM said Schul's pre-compressed, self-expanding foam tapes are used to seal joints in window seals, precast concrete, modular construction, concrete facade restoration, and other applications. Company officials said the acquisition would strengthen the Tremco segment and make RPM a market leader for "impregnated foam tape technology."