People and Property: NH Real Estate and Construction News Roundup
Fulcrum wins two awards, NH agencies awarded HUD grants … and more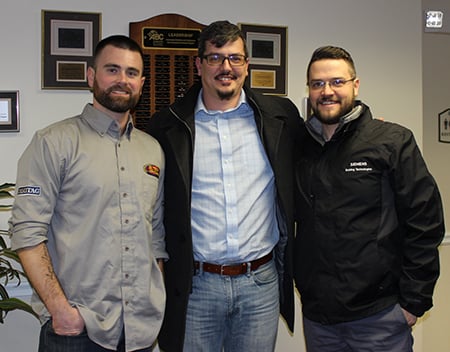 Salem-based Fabrizia Spirits the leading limoncello producer in the United States, is moving to a new space that will more than triple its footprint. Fabrizia will move from an 1,800-square-foot facility at 2 Industrial Way in Salem to a 6,000-square-foot space at the same address.
The new space will allow for expanded production and enhanced efficiency, said co-owner Phil Mastroianni. The additional floor space will also allow Fabrizia to include a separate canning area for its popular canned Italian Margarita, which helped lead a 45 percent sales growth in 2018, Mastroianni said.
Four New Hampshire housing agencies have been awarded a total of more than $555,000 in U.S. Housing and Urban Development grants to as part of HUD's Family Self-Sufficiency Program, which links housing assistance with other services that enable participating families to find jobs, increase earned income and reduce or eliminate the need for rental and/or welfare assistance.
Receiving the funds are: Manchester Housing and Redevelopment Authority, $45,282; Dover Housing Authority, $138,759; Keene Housing, $132,137; and the NH Housing Finance Authority, $238,999.
Monadnock Millwork of Swanzey, a firm that specializes in smaller applications of barn doors and barn door hardware won the Best Booth Award at the 125th Northeastern Retail Lumber Association LBM Expo, held Feb. 6-7 in Boston. The firm is launching a new BarnFold Hardware system addressed at improving barn door movement.
Matthew Demers has been named Northern New England sales representative for Kalwall Corp., Manchester. Demers, who previously worked for Spectrum Marketing in Manchester, is responsible for sales and client relationships in Maine, New Hampshire, Vermont and parts of Massachusetts.
Fulcrum Associates, Amherst, was awarded two Excellence in Construction awards by the New Hampshire and Vermont chapter of Associated Builders and Contractors. The firm was recognized for renovations completed at the Northeast Delta Dental Stadium in Manchester and the construction of the second Copper Door Restaurant location in Salem.
S&P Global Ratings has upgraded the New Hampshire Turnpike System's rating for long-term revenue bonds to AA- from A+. The agency said the rating increase is the result of "very strong enterprise risk and financial risk profiles" and pointed to "very strong management and governance with management's conservative approach to financial and capital planning and track record of achieving financial and operational goals."
Following major capital improvements on the New Hampshire Turnpike System, the system had approximately $379.6 million in outstanding bonds as of June 30, 2018.