People and Property: NH Real Estate and Construction News Roundup
Bill Dube Ford Toyota breaks ground on new dealership, DSCI plans Manchester office expansion ... and more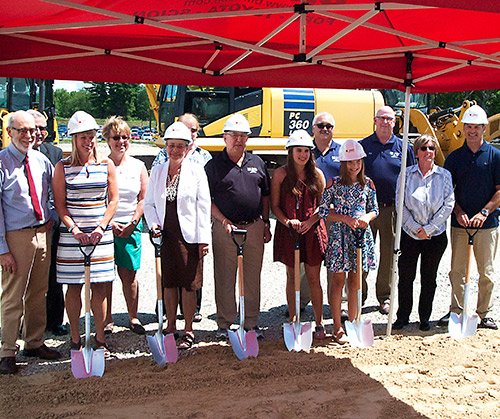 The Southern New Hampshire Planning Commission has announced the addition of Nathan Miller, AICP, as principal transportation planner. Miller most recently served as executive director of the Upper Valley Lake Sunapee Regional Planning Commission. He holds a Master's Degree in Urban Planning with a concentration in Transportation Planning from McGill University. Miller will join the Commission on August 15.
Waltham, Mass.-based DSCI says it is significantly expanding its Manchester office by adding office space and hiring new employees, in anticipation of an increase in demand for its services after its merger with TelePacific Communications. The expansion, expected to be complete in mid-August, will add 6,800 square feet to the office for a new total of about 30,000 square feet.
Raymond-based Jewett Construction Co., Inc. broke ground on Bill Dube Ford Toyota's new dealership on July 19. The groundbreaking marks the beginning of construction for a new dual branded 40,000 square foot Ford and Toyota dealership at 40 Dover Point Road. Designed by the team of Bruce Ronayne Hamilton Architects and Summit Engineering to comply with the manufacturer's latest image upgrade requirements, the 40,000-square-foot design-build dealership will be shared by the Ford and Toyota brands.
Unity College in Maine is repurposing a 2,000-square-foot LEED Platinum-certified house built by the OPEN Prototype Initiative – a collaboration between Walpole-based Bensonwood Homes and the Massachusetts Institute of Technology's Open Source Building Alliance – for classrooms, lab space and faculty offices. Constructed in 2008, the structure was the first home of a U.S. college president to be LEED Platinum certified, the highest sustainability rating conferred by the U.S. Green Building Council.
The Greater Manchester/ Nashua Board of REALTORS® in partnership with The City of Nashua are sponsoring a free luncheon for community stakeholders to discuss how Employer-Assisted Housing (EAH) Initiatives can help alleviate some housing challenges in the area while boosting the quality of life in the City of Nashua. The EAH Forum will take place on Wednesday, August 3 from 11 a.m. – 1:30 p.m. at Nashua City Hall (3rd Floor Auditorium). To RSVP click here.
Roche Realty Group, Inc. has sold a retail property at 1429 Lake Shore Road in Gilford to Rick Ottino for his third car dealership. Gus Benavides and Kevin Shaw, both of Roche Realty Group, Inc., listed and sold the property, which includes two separate buildings totaling 8,300 square feet on 1.5 acres with 324 feet of road frontage on the high-traffic road. The property is near a Lowes, Hannaford's, Shaw's and Walmart, providing immense traffic and prime exposure.
Prolman Realty, Inc. is marketing property at 99 and 101 Perimeter Road by Stein Realty, LLC. The property is situated adjacent to the runway at Nashua Municipal Airport and is ideally suited for a company requiring office and research and development space with a hanger to accommodate an aircraft. 99 Perimeter Road is a 12,840-square-foot building and 101 Perimeter Road is 6,742-square-foot building. The entire property is being offered for sale at $1.35 million.
Mascoma Community Development has closed on $10 million in New Markets Tax Credit allocation to support the $10.5 million purchase and expansion by Capone Iron Corporation North Woods, Inc. of a vacant Berlin property. The CIC North Woods redevelopment project involves the acquisition of a 30,000-square-foot facility and a 17,000-square-foot expansion for the operation of a structural steel fabrication facility. The project is expected to create at least 28 permanent full-time positions once the new facility is completed in the fall.
NAI Norwood Group is marketing one an event center formerly operated as the Granite Rose. The 33,533-square-foot building on 9.46 acres in Hampstead offers easy access to Derry, Manchester, Salem, the seacoast and Haverhill, Mass. The building can be repurposed for many other uses, including winery, brewery, distillery, church, medical facility, school, corporate offices, etc.