People and Property: NH Real Estate and Construction News Roundup
Brookstone awarded Antrim Wind project, CRDC honors bankers … and more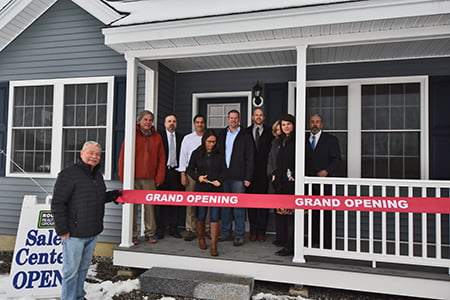 H. Sloane Mayor, principal of UK Architects in Hanover, has received an award from the New Hampshire Chapter of the U.S. Green Building Council for his design of the River House, a LEED Silver Certified residential renovation in Hanover. Completed in 2017, the Hanover, NH River House is a high-performance LEED Silver gut rehab of an existing building.
Brookstone Builders Inc., Manchester, has been hired to build a 2,500-square-foot operations and maintenance facility at what will be the Antrim Wind Farm. Brookstone will serve as a subcontractor to Reed & Reed Inc. of Woolwich, Maine. Jack Boardman will serve as Brookstone's project manager/superintendent.
A 6,000-square-foot commercial storefront with three apartments at 41 Elm St. in Laconia has been sold, reports Kevin Shaw of Roche Realty Group, the listing and selling agent.
Jewett Construction Company, Raymond, has hired Ryan Welch of Hampton as assistant estimator. Welch is a recent graduate of the University of New Hampshire and began his work with Jewett as a part-time employee while finishing his degree.
The Concord-based Capital Regional Development Council recently presented two awards at its Banker Celebration held in at the Grappone Conference Center in Concord. Primary Bank was honored as CRDC's Bank of the Year, an award based on highest dollar volume of lending of loans referred to CRDC in the fiscal year ending Sept. 30. CRDC also honored John Udaloy, senior vice president and senior market manager at Northway Bank, for his dedication and support.
Lakes Region Community Developers has installed a solar energy system at its Avery Hill affordable housing development, a cluster of duplexes on Grove Street and Lougee Court near the LRGHealthcare campus in Laconia. Funding for the project was provided by the Thomas W. Haas Fund of the NH Charitable Foundation, New Hampshire's Renewable Energy Fund, and the NH Community Development Finance Authority's Clean Energy Fund. The array was installed by ReVision Energy.
Hooksett-based Procon has launched a new website at proconinc.com using a simpler platform that features what the company says is a clean, sharper interface.
After 42 years, Phil Tucker has sold the Aldrich General Store in North Haverhill to Victor and Kim Dube of Haverhill and their daughter and her husband, Sean & Kristin Greene, also of Haverhill. The Dube and Greene families previously operated the Etna General Store in the Upper Valley. Tucker was represented by Terry Austin of TL Austin Site Selection and Business Analyst Expert. Andy Smith of Peabody & Smith Realty represented the Dube and Greene families and assisted Tucker with this transaction.